Lesley M. M. Blume: Writer and Ampersand Woman
April 18, 2014 | Filed in: Woman of the Week

Today's Ampersand Woman is not only one of the most accomplished writers we know—she's also unquestionably the most stylish. Known in New York's literary circles as a sharp-witted cultural chronicler, Lesley M. M. Blume is ever in search of stories that delight, entertain, and inspire (she's currently working on her eleventh book). But in addition to her achievements as an author and journalist, she's also a tireless champion of other women and their professional pursuits. A mentor to many, she is quick to acknowledge the role that women can (and should) play in enhancing one another's lives and work.
We recently spent an afternoon in her book-filled West Village abode, where we discussed the literary life, her pursuit of Hemingway, and the importance of dedicated ukulele time.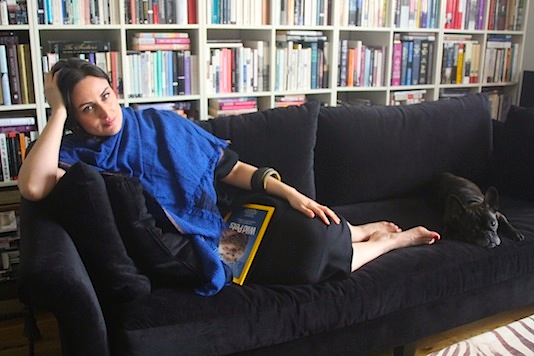 *   *   *
What projects are you currently working on? Do tell. 
I am doing a handful of exciting profiles for Vanity Fair about certain creative giants, and I am working on a biography detailing the real-life events that inspired The Sun Also Rises, Hemingway's debut novel. So I live here in New York City, but I spend much of my time these days in 1920s Paris and Pamplona. Not too shabby.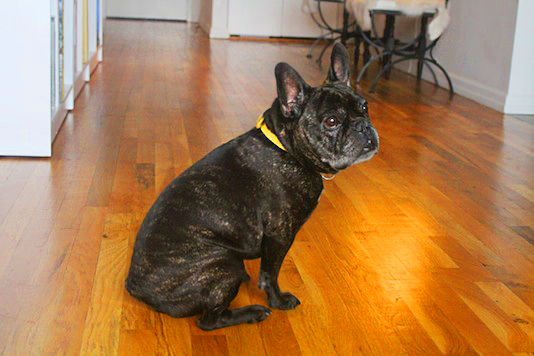 "Yaya, our ten-year-old French bulldog, sporting his special collar. It's a subtle homage to one of my heroines, fashion editor Diana Vreeland, who once implored her Bazaar readers to "…put all your dogs in bright yellow collars and leads like all the dogs in Paris."
How did you become a writer?
I've always been a storyteller and a chronicler of sorts. For years, whenever something wonderful or poignant or unfathomable happened, it never officially finished happening until I documented the event in my journal. When I finished school, I first went into television news – my venerable papa's realm – but I quickly learned that wasn't how I wanted to tell stories. I fell into writing very naturally after that, and have never had the tortured relationship with it described so often by writers of stature, like Hemingway.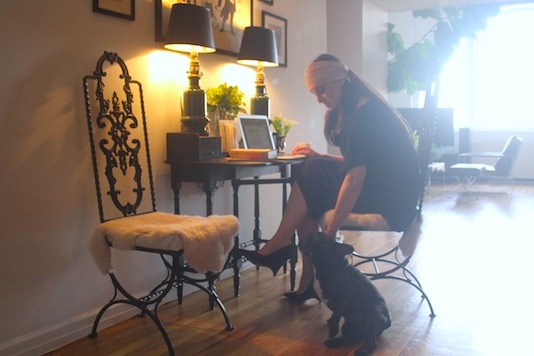 Sounds like a nice existence. Tell us about your morning routine.
Mornings are elaborate around here. My husband and I wake up at 7:30. He wakes up our baby daughter; I take Yaya out for a walk. Usually we go visit Edna St. Vincent Millay's old house on Bedford Street, which I believe is actually the skinniest house in town. Something like 8 ½ feet wide. Anyway, it's very charming and we say hello and then trot home. Then I bundle the baby into some hilarious fur coat (she has several, and a passel of baby kimonos, too) and we take her to Buvette on Grove Street for breakfast. She's partial to the scones; I'm a fan of their cortada coffee. Then, back at home, we sit in the sunshine and have ukulele time. It's kind of crazy how well my man plays that instrument—maybe he was a rails-hobo in a previous life or something. The nanny comes at 10am, and then real life begins.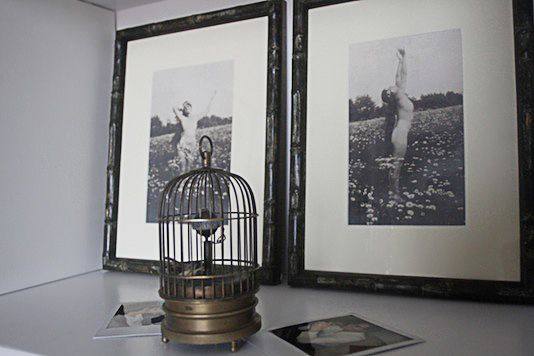 "An antique mechanical bird cage clock, scored at a flea market, and some risqué 1920s images of my grandmother, taken by my grandfather."
What's your personality at work in three words?
Passionate, relentless, ambitious.
When you were little, what did you want to be? 
I went through a "Cheetara" from ThunderCats phase; I thought she was very foxy. Then I thought I might settle for being Queen Elizabeth I for a while. See the theme? I liked the idea of being a sexy, powerful woman in the realm of men.
When you "grow up," what do you want to be?
Meaningfully accomplished.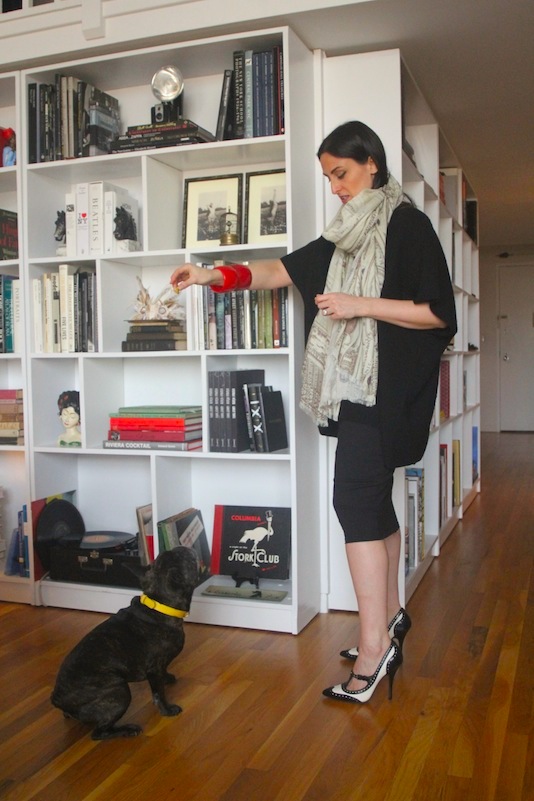 Lesley in the Bird of Fortune scarf. 
The best advice you've ever received?
Keep your sense of humor.
What do you wish you'd known when you started working?
As Colette once said: writing only leads to more writing.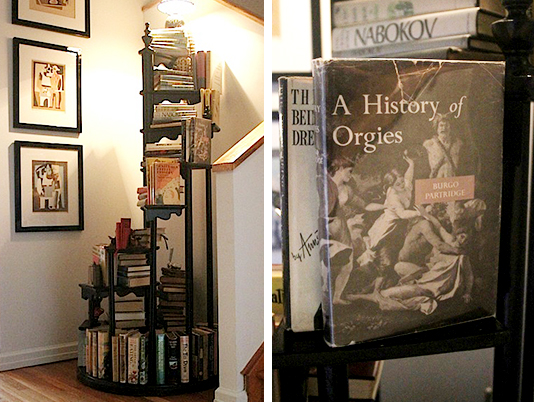 "An antique library ladder, which I rescued and lacquered myself, and a beloved member of my vintage book collection."
How do you dress for work?
Totally depends on the situation. In interviews, you dress for your interviewee. If you know that he or she has a sweet-tooth for glamour, you look glamorous – within reason, of course. Maybe you wear a statement coat with a bit of fur, or a statement necklace. On the whole, I wear a lot of simple black streamlined clothing, as a good journalist should be more background than in the mix.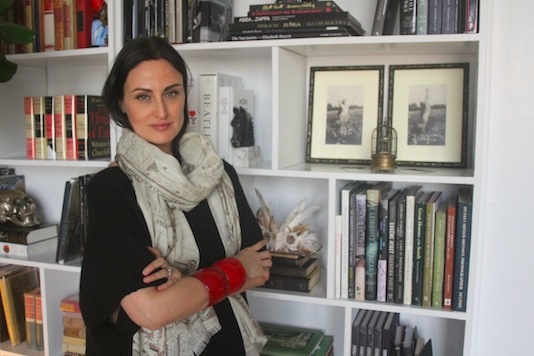 When you need to dress up for work, what's your secret weapon?
My black A-line dress with slit sleeves. It's sexy in the way that all little black dresses are, but depending on how I style it, the dress can give the impression of austerity as well.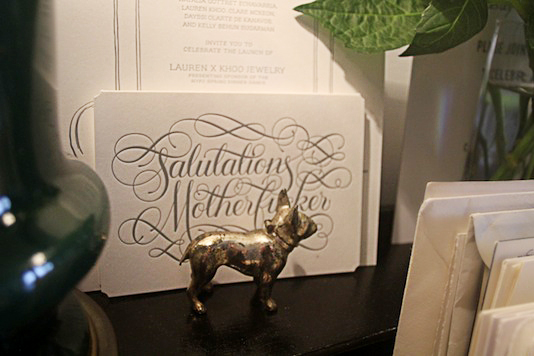 "A vintage French bulldog cigarette lighter. You flip its little head back and the lighter is inside the neck. It's a little disconcerting, to be honest. And the 'salutations' card came to me courtesy of my adored friend, designer Rod Keenan. It cracks me up every time I see it."
If you could have a power lunch with anyone, who would it be?
Well, it would be remarkably helpful if Hemingway, Fitzgerald, Max Perkins, and Gertrude Stein could magic themselves back into existence for me. I do have an awful lot of unanswered questions about them, and the whole Ouija board approach isn't yielding much fruit.
If you could have happy hour with anyone, who would it be?
Noel Coward or Truman Capote.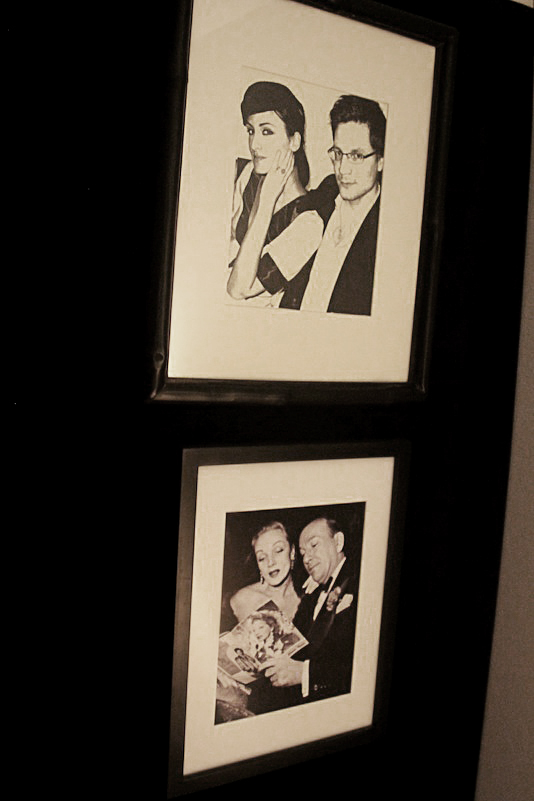 "Portraits on my baby daughter's wall. On top: her mama and her papa. Below: her godparents, Marlene Dietrich and Noel Coward. They helped me get through a lot of middle-of-night hours when the baby was tiny."
Success is… feeling that you're finally being given the opportunities you've craved.
Happiness is… ukulele time with my little family, on the day that one of my stories is published, with Fred Astaire records playing in the background. Coconut pancakes should be involved too.
First-person confession female writing à la The Atlantic magazine… is overrated.
The healing power of a stylish lunch on one's own… is underrated.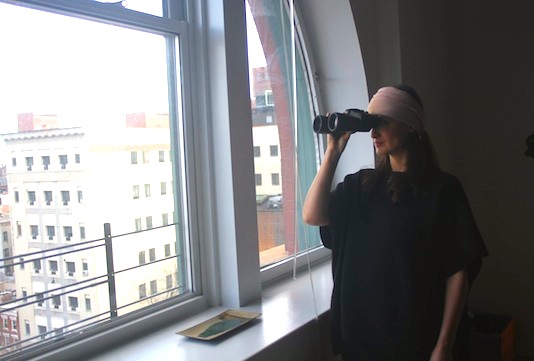 Keeping an eye on the neighborhood in an Italian dip-dye headscarf. 
A working woman can never have too many… like-minded, equally ambitious, humorous female comrades.
What's your motto?
Eat and drink for tomorrow we die. I even had it printed on our house matchbooks.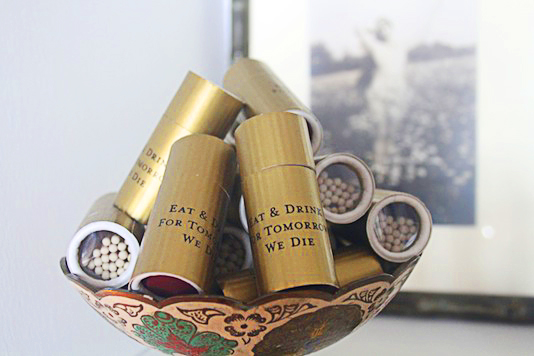 "Truer words have never been spoken.  I've always thought that appetite and wit are the best antidotes to the drearier realities of life."
Read about Lesley's daily routine below (click on image to enlarge).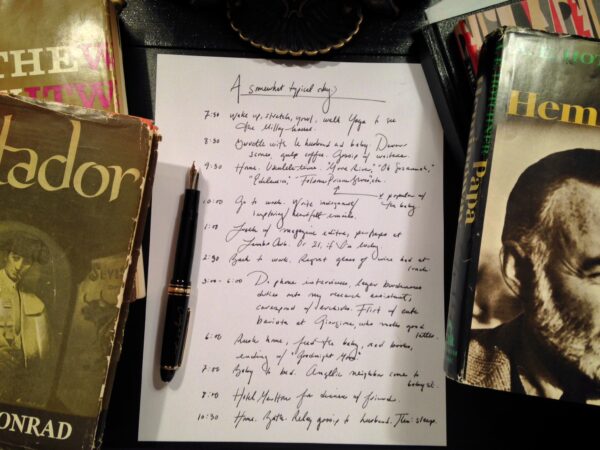 – Interview & Photos by Tory Hoen