Ampersand Woman: Human Rights Activist Isabel Mignone-del Carril
January 31, 2014 | Filed in: Woman of the Week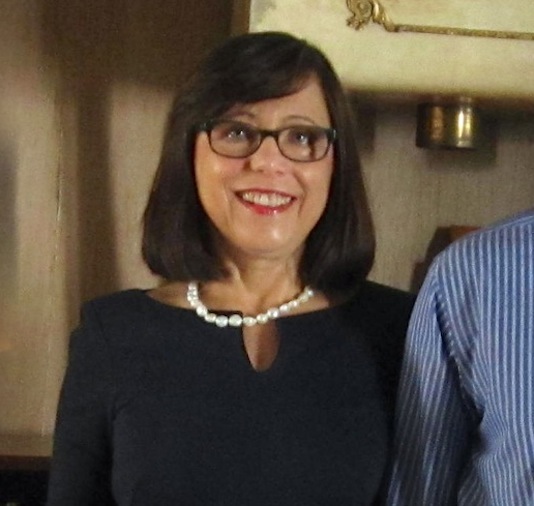 One of the most gratifying things about working at MM.LaFleur is that we are constantly crossing paths with inspiring women. We first met Isabel Mignone-del Carril at one of our D.C. trunk shows, where she picked up the dress that she ultimately wore to the annual presentation of a human rights award named for her father, Emilio Mignone, which was held in Buenos Aires in December 2013.
A native of Argentina, Isabel has spent much of her career working in international development at the World Bank in Washington, D.C. But she's also had a parallel path as a human rights activist, a realm she was drawn to after tragedy struck her family during Argentina's military dictatorship in the 1970s.
Below, we talk to Isabel about her compelling career, the challenges she's faced, and of course, her sharp sense of style.
*   *   *
What were your goals at the beginning of your career?
In the '70s, I studied international relations in Argentina, and my goal was always to work in international development. I was interested in finding peaceful resolutions to conflict, and creating better living conditions for people in the world. I thought about how each of us can bring change in very small ways, and that's what moved me at the time.
And you come from a family that has a history of dedication to social and political justice.
Yes. Something that really changed our lives was when my sister, Mónica, was detained-disappeared in May 1976 in Buenos Aires. We had had a coup d'état that March, and because of her work in the slum areas, she was detained with six other young friends. She was supposed to be taken for just two hours, but she never came back. We were never able to learn what happened to her or how she was killed.
She was 24 and I was 25 when she was taken. As a result of this, we all started working to understand what had happened to her and many other young people of our generation that had also been detained-disappeared. My mother, Angélica Sosa, helped create the Madres de Plaza de Mayo and my father, Emilio Mignone, was a lawyer and he co-founded a human rights organization called the Center for Legal and Social Studies (CELS). It's a mixture of a think tank and an NGO, and it's alive and well in Buenos Aires with a staff of 60 professionals. I have cooperated with them over the years. And because of my father's vision, the Argentine government created an award in 2007 in his name: the Emilio F. Mignone International Human Rights Prize. I am in the selection committee together with representatives of the Argentine government and CELS. It's given annually to an NGO or person working on human rights outside of Argentina.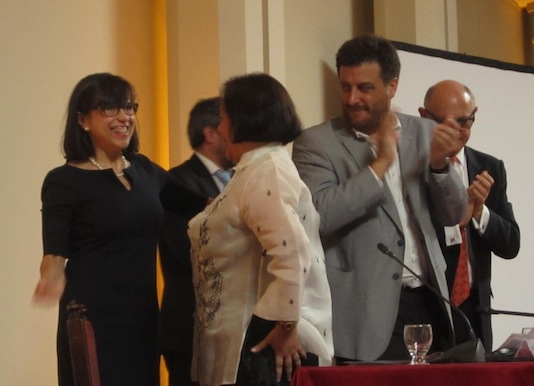 Isabel and 2013 award winner, Mary Aileen Díez Bacalso of the Philippines.
How did your studies and experience in Argentina lead you to the World Bank?
While I was studying international relations, I worked part-time as a translator at international congresses and conventions held in Argentina. And then I was the Latin American representative for a professional organization here in the United States, which is called the International Reading Association. So I earned my living using both English and Spanish, and I got to travel quite a bit, which I loved. I started in Argentina, but I was always looking outside Argentina. So in 1982, I came to the United States and worked for two years at a human rights NGO that was then called Human Rights Internet. In 1985, I joined the World Bank, where I was a researcher in the legal department, specializing in co-financing and donor grants. During my last eight years there, I was the co-financing coordinator for sub-Saharan Africa, and I acted as the intermediary between the donor agencies and the governments or NGOs receiving funds.
Did you find that there were moments in your career that were more challenging because you were a woman?
Yes. When I first interviewed for the position at the World Bank, the Assistant General Counsel in their legal department asked me, "You have one son. Are you planning to have other children?" I was 35 years old. It's incredible that they asked me that question. And later, when I was pregnant with my daughter and left for maternity leave, my Chilean manager—who was from another century—said, "Oh, have a good vacation." So during my childbearing years, I felt quite a bit of discrimination from men. It's been hard for women of my generation—I'm of the generation of Hillary Clinton—to deal with these issues.
How did personal style factor into your career?
The way you dress says a lot about you. I've always liked classic styles—simple and elegant dresses, skirts, and pants. I've learned which colors suit me best, and I wear a lot of black, blue, and green. I'm also petite (5'3") so I love high heels.
Any advice for how to travel in style?
Keep it simple and stick to neutral colors. And always take an outfit in your carry-on, because you never know if your suitcase is going to arrive!
Does your style lean more American or Argentinean?
I take elements from both. I dress quite American nowadays, but I still can't believe it when I see women in D.C. wearing sneakers or flip-flops to work on the subway and then changing into heels.
I take it you don't wear sneakers to work.
No! It wouldn't even occur to me.
Any advice to young women at the beginning of their careers?
Set goals and go for them. There will be obstacles on the way, but keep an optimistic outlook and take it one day at a time.
– Interview by Tory Hoen