Ampersand Woman: CEO Cynthia Rivera Weissblum
April 10, 2014 | Filed in: Woman of the Week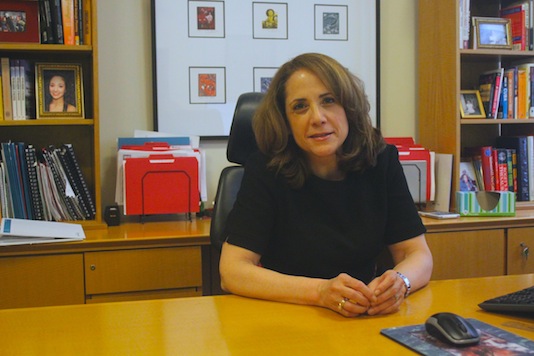 We can't help but be inspired by the important work of today's Ampersand Woman. Cynthia Rivera Weissblum is the President and CEO of the Edwin Gould Foundation, which invests in organizations that help low-income students prepare for, enter, and succeed in college and beyond.
This week, we met up with Cindy at her office in New York's financial district to talk career, style, and what it means to create opportunity for yourself and others.
*   *   *
You're doing such important work in the education space. What are the goals that motivate you?
I really believe that your zip code should not determine or limit who you become. In order for our great nation to be successful, we need to tap talent from all sectors of society; and, unfortunately, today that is still difficult. The escalator that has taken past generations from working class to the middle class is broken, and we need to do all we can to create opportunities that improve economic mobility.
How did you end up choosing your professional path?
I was born in Spanish Harlem—my parents met there. My mother was from Puerto Rico and my father from Cuba, and I spent my formative years in Springfield Gardens, Queens. As a first generation college-goer, I know firsthand that grit and opportunity (combined with luck) propelled me on my journey. Now I help others access the same opportunity.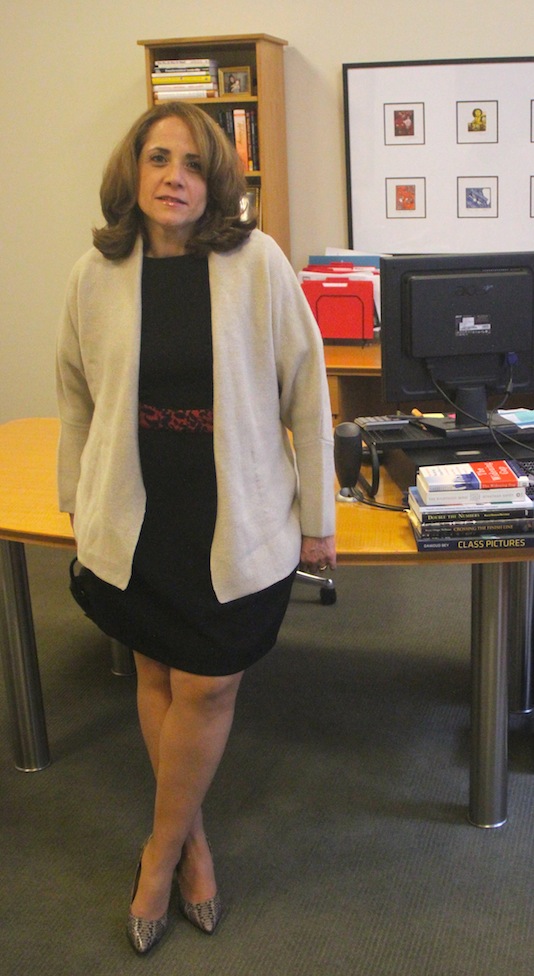 Cindy in the Morandi—the ultimate "desk sweater." 
What are you most excited about at work right now?
Right now, I'm working intensively with two organizations. UASPIRE advocates for and educates low-income families about the rewards and risks of student loans. We're also working with a social entrepreneur who has an extraordinary method that helps students from low-income communities learn to write analytically and think critically—basically bridging the literacy gap!
You have a lot of experience as a professional. What's your advice to young women who are still searching or just starting their careers?
Meet with people from all walks of life and gather up their wisdom. Put yourself in an environment that supports risk-taking. In my opinion, the most important experience on the way to success is having a failure, licking your wounds, and picking yourself right back up again.
What's your personality at work in three words? Positive, direct, and open.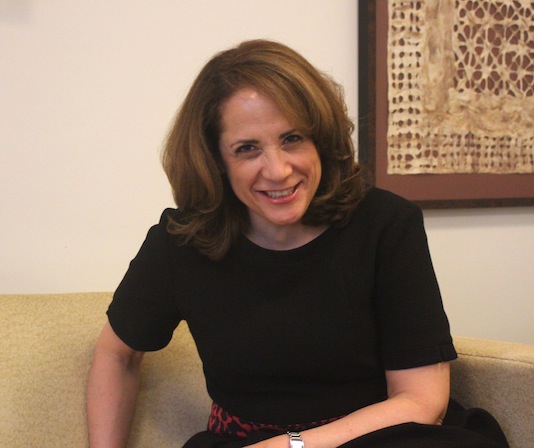 Cindy next to a piece of Mexican art made from chewed bark. Yes, chewed bark. 
When you were little, what did you want to be? Sometimes a teacher, sometimes Mary Tyler Moore, and sometimes Diana Ross.
What's the best advice you've ever gotten? Everything will work out. It always does.
Is there something you wish you'd known when you started working? Worry is a waste of time and energy taking up valuable real estate in your mind.
How do you like to dress for work? In black with a splash of color. You can't go wrong with a comfortable, well-tailored dress in a great fabric.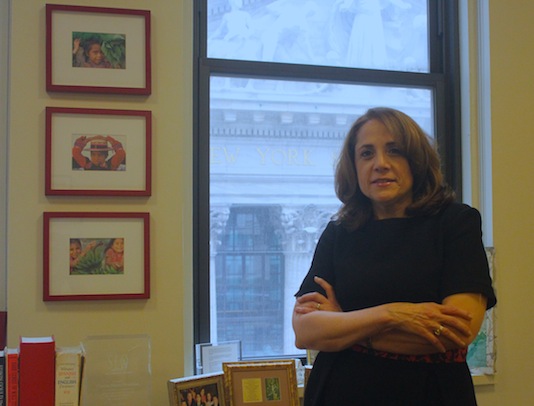 Nice view! Cindy's office overlooks the New York Stock Exchange.
If I could have happy hour with anyone, who would it be? Alejandro Sanz and Juanes—two terrific Latin artists— and my sisters. It would definitely involve some dancing.
Success is… seeing great ideas grow and thrive.
Happiness is… dinner with my family.
Perfection… is overrated.
Contentment… is underrated.
A working woman needs… a few friendships that are deep and long lasting. We need feedback and support in all our endeavors to provide renewal and strength—whether in our families, communities, spiritual lives, or professional lives.
What's your motto? Pull your socks up and get on with it.