Charlotte Cowles: Ampersand Woman & Editor of Harper's Bazaar
February 10, 2014 | Filed in: Woman of the Week

New York Fashion Week is upon us (again), so it's fitting that today's Ampersand Woman is Charlotte Cowles, one of our favorite culture editors. Formerly of New York Magazine's The Cut and now the senior features editor at Harper's Bazaar, Charlotte is no stranger to the inner workings of the fashion industry. But despite her front-row access, she has never taken any of the glitz too seriously, which is one of the many things we love about her.
On a spectacularly cold day this winter, Charlotte invited us up to her light-filled abode on the Upper West Side, where she lit a fire (yes, a real fire in a real fireplace) and regaled us with her thoughts on streamlining her style, dressing for life at Harper's, and realizing that her mom has been right all along.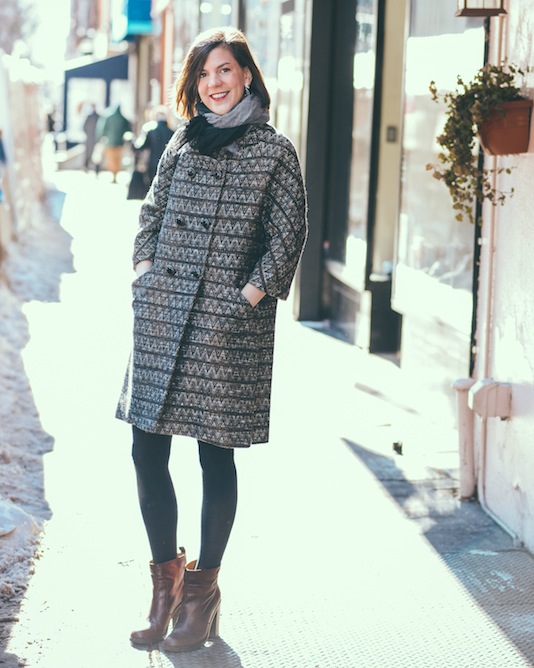 Photos by Adrien de Bontin.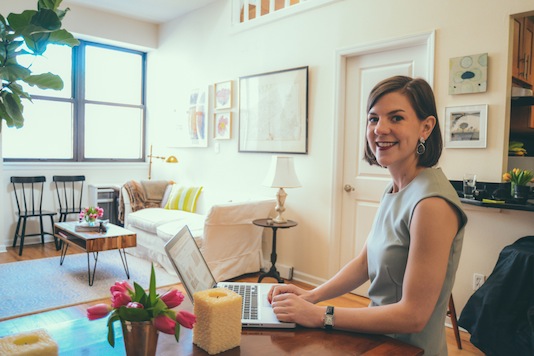 Do you have a style philosophy?
I'm really lazy, and I also have to be comfortable. Is that a philosophy? I see women in dresses and super-high heels that look really great, but I just can't do that. I sit at my desk for 90% of the day, so I need something that's comfortable and won't distract me from what I'm doing. I played sports and spent most of high school and college in spandex, so I have a really low threshold for things that aren't comfortable.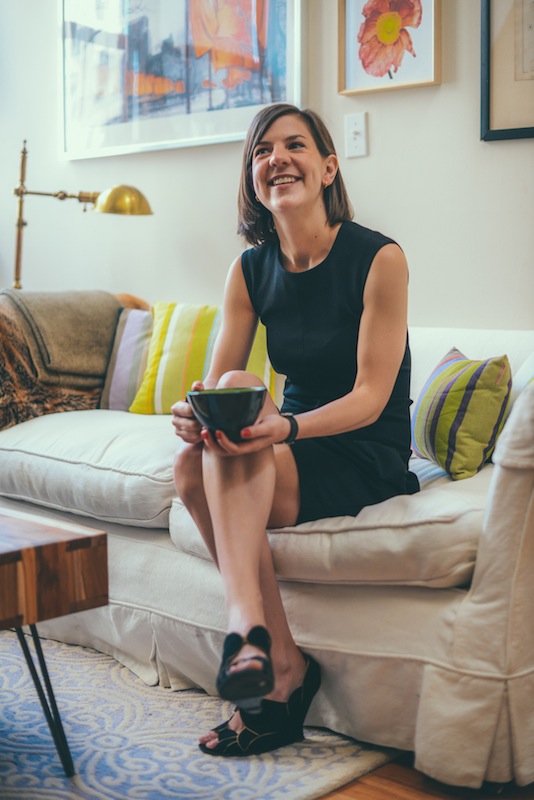 But working at a fashion magazine, is there pressure to look amazing all the time?
A lot of people in the fashion industry do have really amazing personal style and dress impeccably no matter what. It seems exhausting to me, but I have nothing but respect for people with that level of commitment. But I'd say that as long as I look acceptable, then it's not an issue. I can't wear workout clothes to the office, but I can wear nice jeans and a sweater and it's fine.
It also depends on the season and the weather. In the summer, my style is infinitely better than in the winter. In the winter, I just have a rotating cast of sweaters and different jeans. The Morandi in charcoal is my office sweater. I keep it draped over my desk chair.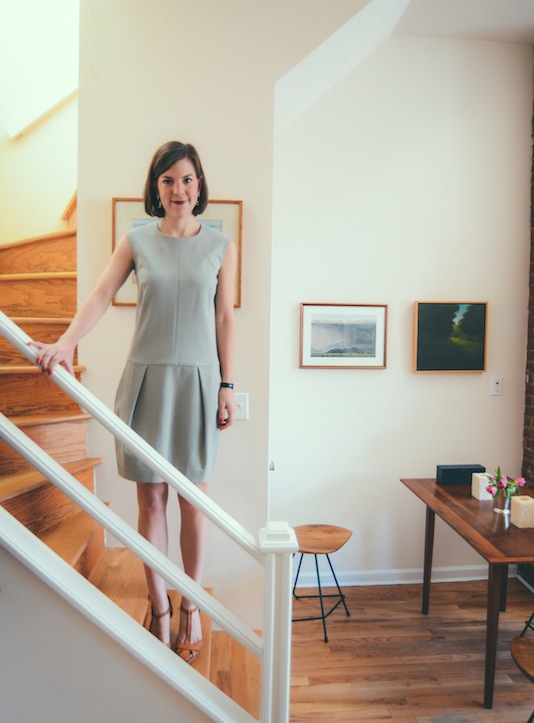 Charlotte at home in the Jina.
Do you regularly edit your wardrobe?
I think I'm finally getting to the point in my life where I have the ability to edit my wardrobe. And moving and starting a new job have helped me to really think about what's in my closet. When I moved recently, I finally got rid of these random dresses from when I was 22. It was like, "These have red beads all over them. Of course I'm never going to wear them again."
And starting a new job gives you a chance to evaluate how you're going to put your best foot forward. Now that I'm at Hearst, where the style is a bit more elevated, I find that I want to look more elegant. Not more complicated, but more streamlined. I totally believe in the idea of the uniform and being disciplined about your look, although I'm definitely guilty of going to sample sales and buying things that I never end up wearing. I went through a big Helmut Lang phase with all that jersey stuff and asymmetrical unfinished hems. My mom recently went through my closet and was like, "Look at these hems! This looks ratty." She tried to make me throw it out, but I didn't.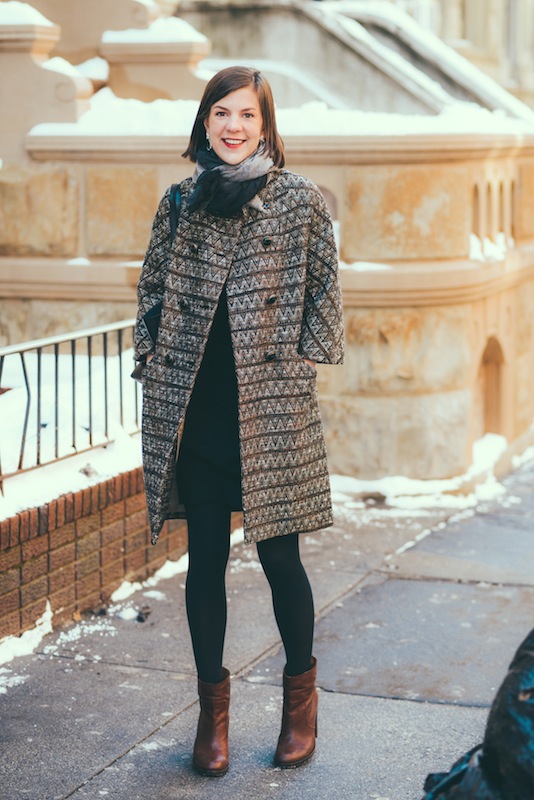 We don't think you look ratty, Charlotte.
Sometimes moms are the best closet editors. What other sartorial lessons has she taught you?
My mom is elegant by nature and looks really good in clothes, but she's also very specific about what she wears. She only buys things she really loves. She'll order 10 dresses online and then send them all back because none of them are perfect, and she has no shame about it. That's something she has really instilled in me. If you look in her closet, she only owns maybe 10 dresses, but she still has an Armani dress from the '80s. She doesn't buy just for the sake of buying, which I really admire.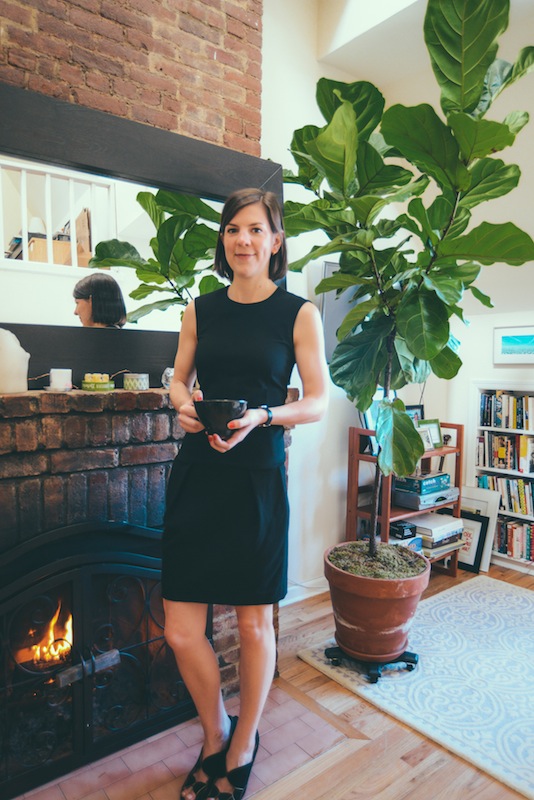 You have "the Jina" dress in two colors. What drew you to this style?
I have a really long torso, so a lot of dresses just don't fit me, because where the butt is supposed to be ends up being in the middle of my back. But the Jina fits me really well. I wear this dress a lot when I'm interviewing other people for articles because it feels dressed-up but it's not distracting. I also wear it if I have to go to an event after work. It looks good in the office, but it also looks good at dinner or cocktails. I think I might have even worn it to my job interview at Harper's.
Does your always-elegant mom approve of this dress?
She definitely approves of this dress.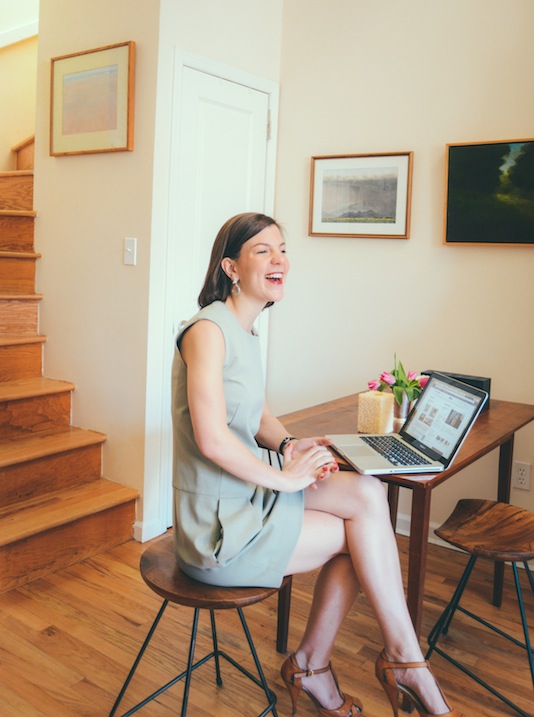 What about makeup?
Every day I wear a little bit of concealer—recently it's been Clé de Peau—and powder and L'Oréal Voluminous Carbon Black mascara. That's it. Sometimes I wear blush, but I never want to look like I'm wearing it.
If I'm going out, I'll usually wear brown or black eyeliner. Occasionally, I'll wear lipstick, but that's a new thing. I had never really been into it because I'm always worried it's going to be all over my face. But I recently started wearing Lancôme in Berry Noir. I like how it smells.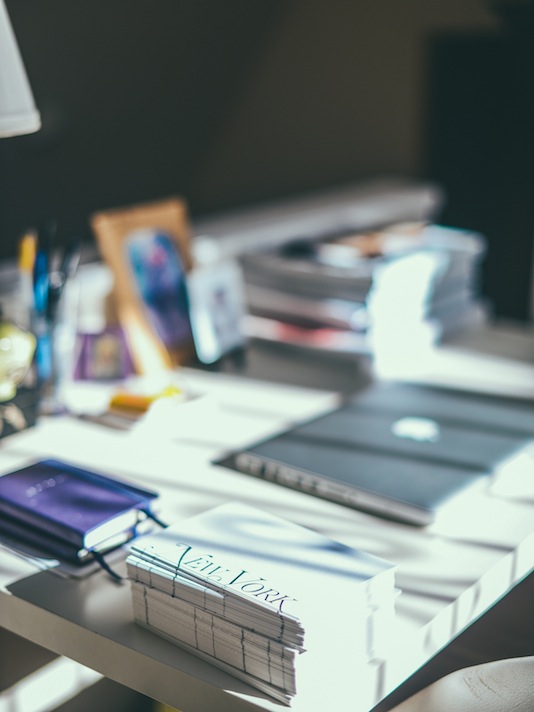 What's your M.O. when it comes to home décor?
I care a lot about my space, and I'm finally in a phase where I'm no longer just bumming stuff off my parents. I'm actually buying some of my own stuff. But a lot of my things are from my family. My grandmother made this little dog (below). My grandfather was an architect, and I think she was tired of him always being the creative one, so she was like, "I can make shit too." She was really into making bronze sculptures of dogs.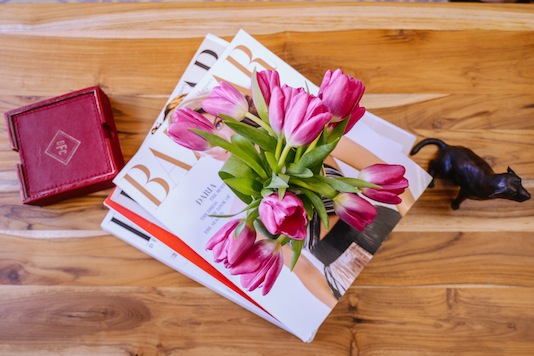 Growing up, did you have a sense of what you wanted to do for a career?
I always wanted to do something that had to do with writing, but I never envisioned myself working at a fashion magazine.
What's the best piece of career advice you've gotten?
At my first job ever, one of the editors who I really looked up to said, "In this business, the most important thing is that you write clean copy on time." And it's so true. People put so much emphasis on being a genius or being so funny and talented. But if you do not write clean copy and turn it in on time, then no one will hire you again. At the end of the day, editors don't want to do your work for you.
If you could have a power lunch with any woman (living or dead), who would it be?
I have two. The first is Eleanor Roosevelt. She was sassy, compassionate, and brilliant, but not a snob. The second is Nora Ephron. She knew how to be funny and serious at the same time. What more could you want in a lunch companion?
– Interview by Tory Hoen