1 Week, 4 Looks: Management Consultant Mary Adeogun
November 19, 2015
Fun fact: MM.LaFleur was founded by two former Bain consultants who got to know each other while working on a travel case. Every week as they jetted from city to city and meeting to meeting, they'd commiserate about their lack of chic, travel-friendly clothing options. A few years later, they decided to solve the problem by launching a complete wardrobe solution for the professional woman.
Today at MM, we have a freakishly talented team, and one of those talents is Mary Adeogun. As an extern from Bain's Chicago office, she's only with us for six months. But while she's here, we're adamant that she (1) teaches us everything she knows about Excel, and (2) schools us on how to look both impossibly elegant and completely professional (which she manages to pull off every single day).
Below, Mary walks us through four fall travel outfits she'd wear during a typical week as a management consultant.
For Travel Days: The Iris
For the past year and a half, I've been traveling three to four days every week from Chicago to various states around the country. This isn't necessarily the norm for all consultants—just my luck of the draw with the cases to which I've been staffed. Given my schedule, I can't overemphasize the importance of comfort while traveling.
On travel days, I go for a professional look that's comfortable enough for a one to two-hour plane ride and isn't complicated or liable to wrinkle (no suits!) . However, it's important that the look also leaves me feeling confident and communicates that I'm energized and ready for the week ahead (nothing too casual!) . The Iris dress in MM's signature Italian double-knit jersey hits all of those points.
On a non-travel day at the client's office, I can be a bit formal because I won't be running around an airport all morning. Although we are external consultants, it's incredibly important that we blend seamlessly into the culture and work flow of the client—from the hours we work to the clothes that we wear.
Making an effort to blend in fosters collaboration, thought partnership, and teamwork; and it breaks down the "us" versus "them" mindset. Most of my clients have been business casual, which is on par with the dress code in my home office. Separates are a great option on a normal day at the client, and I like a clean, sophisticated look with a little bit of edge. One of my favorite combinations: a sturdy white blouse with MM's beautiful wool wrap skirt, the Chelsea.
For Important Meetings or Work Events: The Tory 2.0
Often, we have an important meeting with senior clients or a huge professional event in our home office. For important client meetings, the default is usually business formal. I prefer a refined and modern silhouette, with understated styling (my gold chain and a deep red lip have never failed me).
For a business formal dress code, I'm a huge fan of a modern pantsuit (cigarette pants or wide-leg trousers, a crisp white collared blouse, and a unique jacket). When the dress code is up for interpretation, a dress like t he Tory 2.0 is perfect; it's bold but understated, with crisp, clean lines and an effortlessness about it.
For Normal Days at the Home Office: The Winfrey Top & SoHo Skirt
As the week comes to a close, I sometimes fly back from the client site early and get a chance to work from my home office in Chicago .
I still need to dress professional ly, but since there are fewer client and internal meetings, I spring more for comfort and ease—I'll be sitting at a desk most of the day, after all! The Soho / Winfrey combo is perfect for a casual day in the office.
And when I feel chilly—which is somehow inevitable in any office building—I can throw on the comfy O'Keeffe sweater.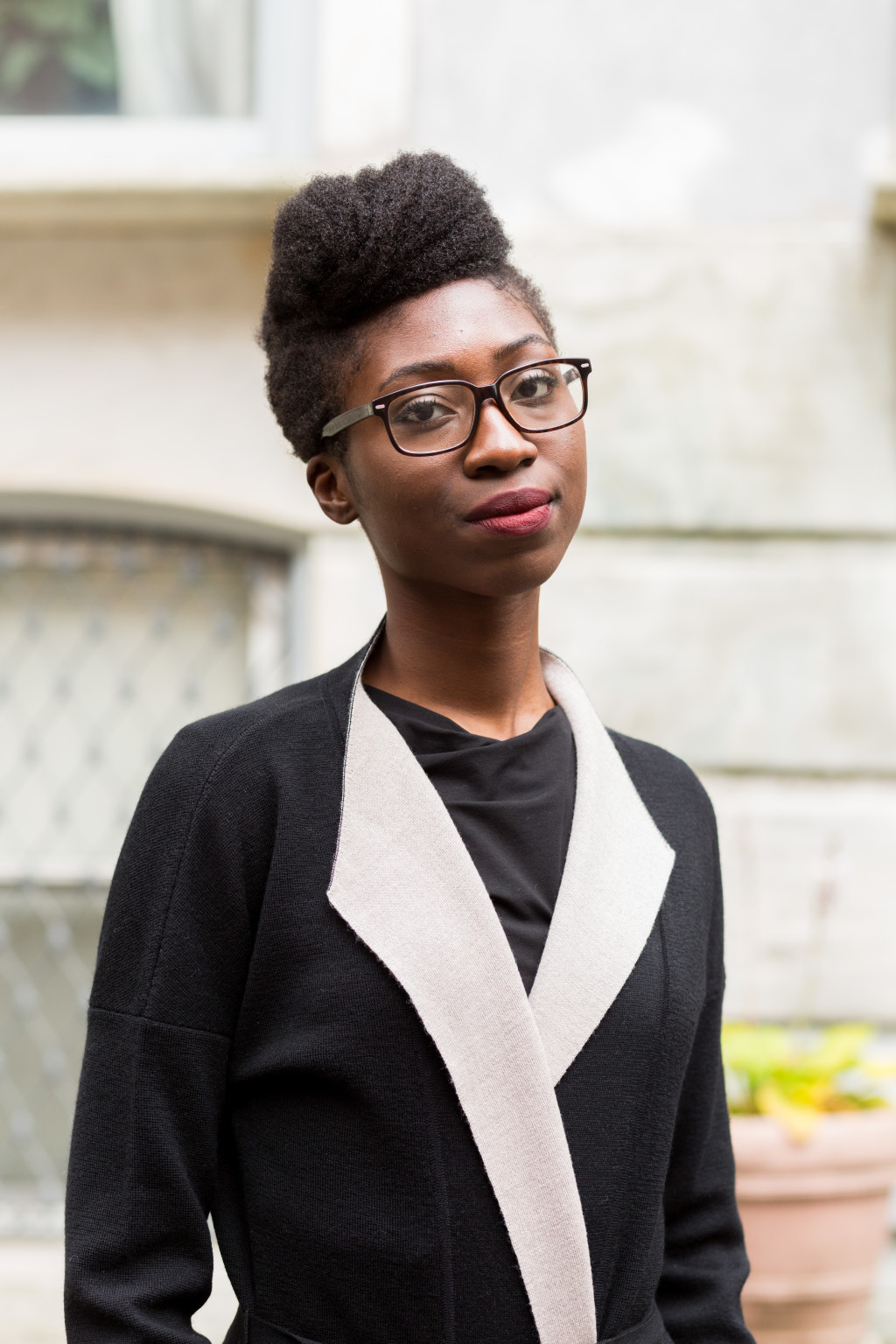 Thank you, Mary! You make it look easy.