8 Ways to Wrap Yourself in Cashmere
October 27, 2016 | Filed in: Your Closet

The caveat "everything in moderation" has one major exception: cashmere. In our world, there's no such thing as too much of it. And that's why we created the Angelou shawl—a thick, 100%-cashmere wrap with an ingenious notch at the neck to keep it from slipping off your shoulders. No more "wrap flap"—our name for when you're flailing around to secure an unwieldy knit accessory.
Indeed, the Angelou is the closest we've come to living in an all-cashmere world. Love the thought of being swathed in a wearable blanket, but aren't quite sure how to make it look more Elizabeth Taylor than Snuggie? Read on to see how MM stylist Elecia styles it with her Rachel dress.
1. The Under-belt Layer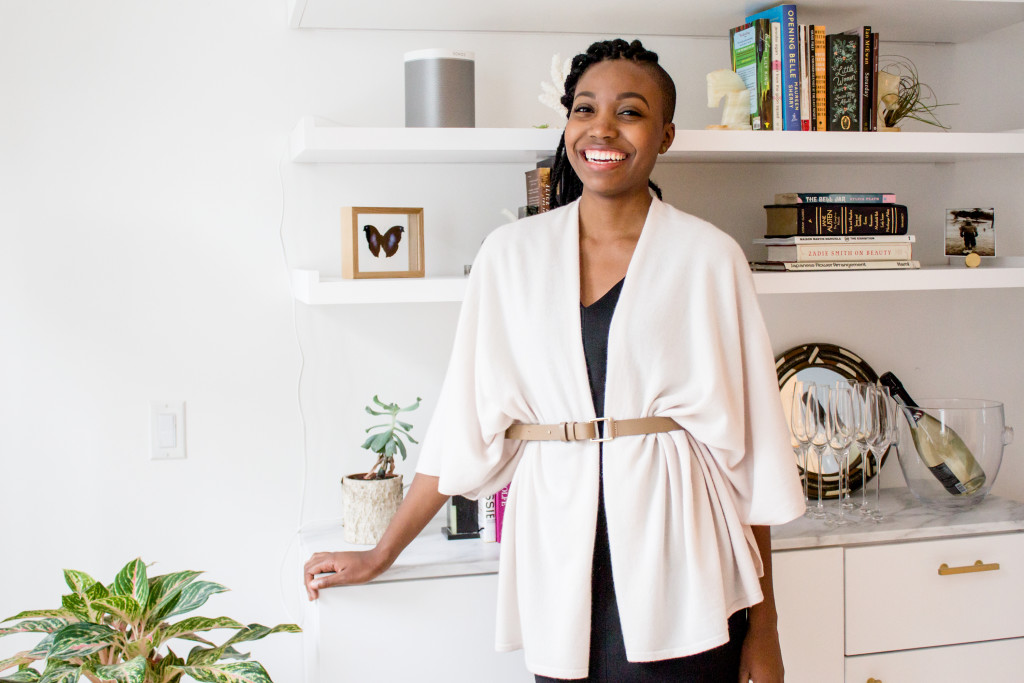 When: You're going to a dinner party at your friend's super-cool (but perpetually drafty) loft.
How to style it: With the central notch at the nape of your neck, drape the shawl over your shoulders and let the panels hang down at your sides. Fasten the Square belt over the shawl at your natural waist for a belted-sweater look.
What to pair it with: To avoid extra bulk, go with a more form-fitting dress underneath. A basic black belt is simple and chic, while a more fashion-forward design packs a punch.
2. The Evening Cover-up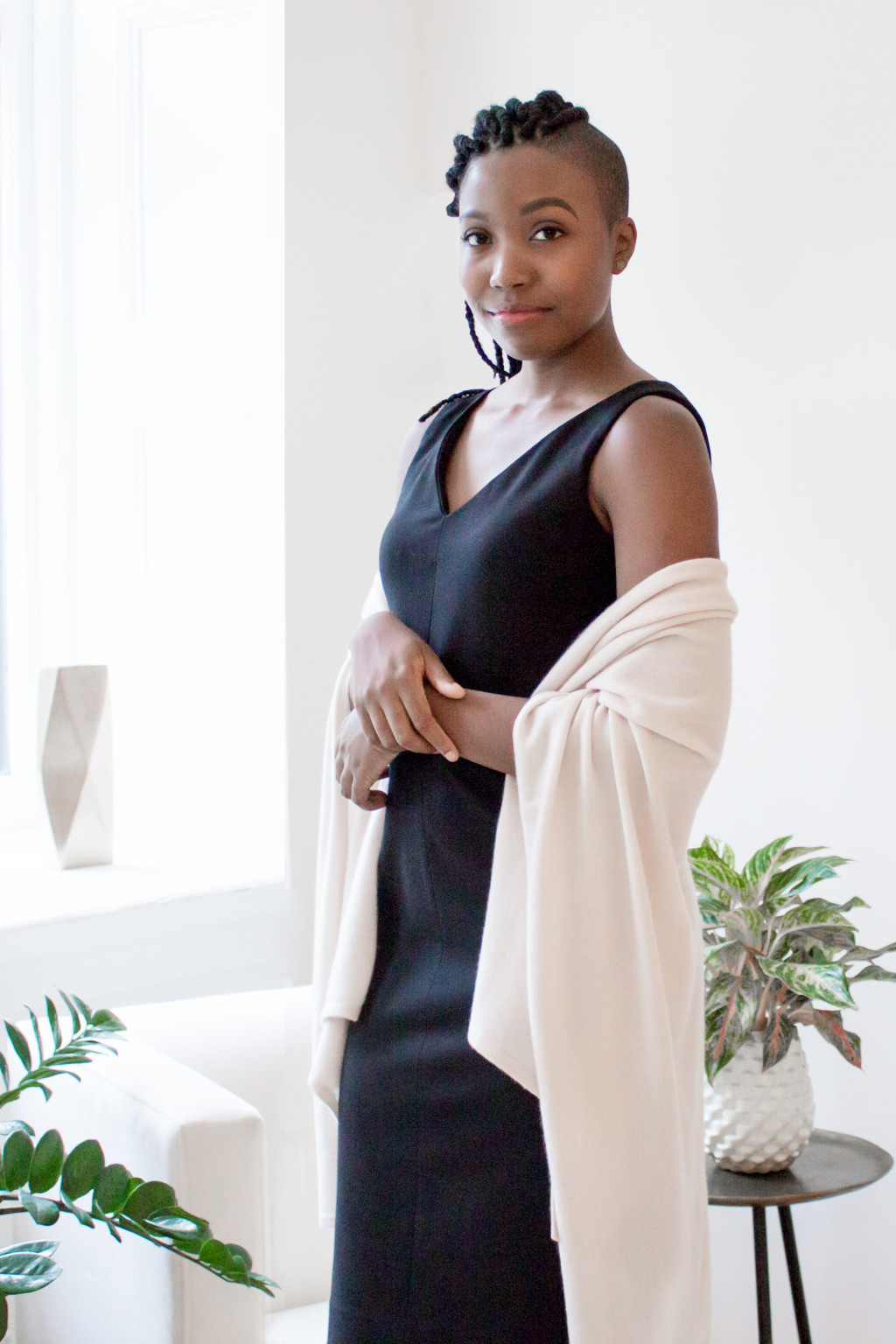 When: You're attending the opera or a friend's winter wedding.
How to style it: With the central notch at your mid-back, drape the Angelou loosely around your upper arms for occasions where you need warmth (or to cover up skin), but still want to show off your dress.
What to pair it with: A fabulous dress or gown, cocktail jewelry, and killer pair of heels.
3. The Throw Blanket (for Your Body)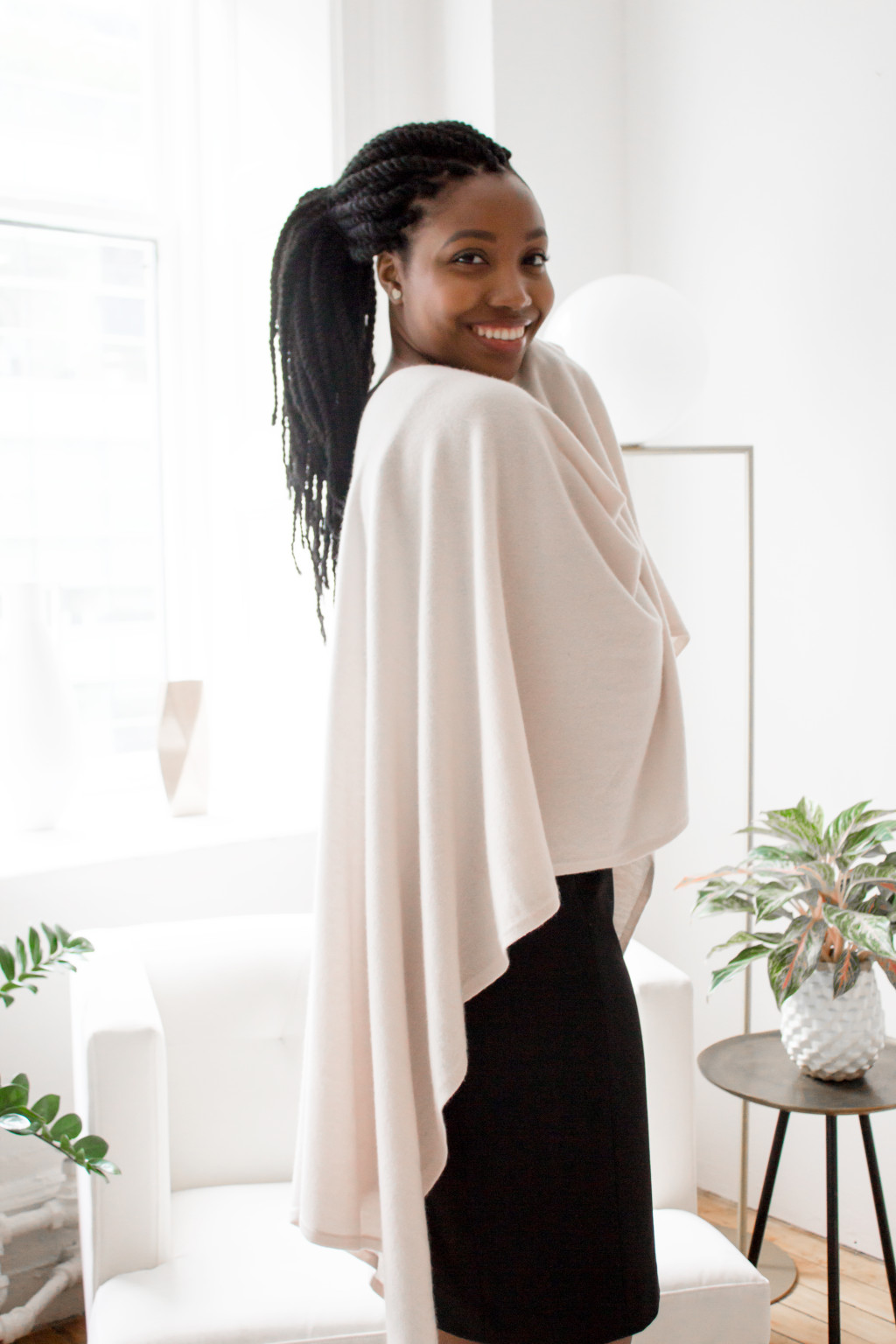 When: You're on a transatlantic red-eye flight and there's no way you're touching that airline blanket.
How to style it: Like a blanket, of course. Because there's no better way to traverse the globe than swaddled in cashmere.
What to pair it with: Leggings that have enough stretch to let you twist and curl into creative, sleep-inducing positions on the plane. The Foster pant works, too.
4. The Weekend Warrior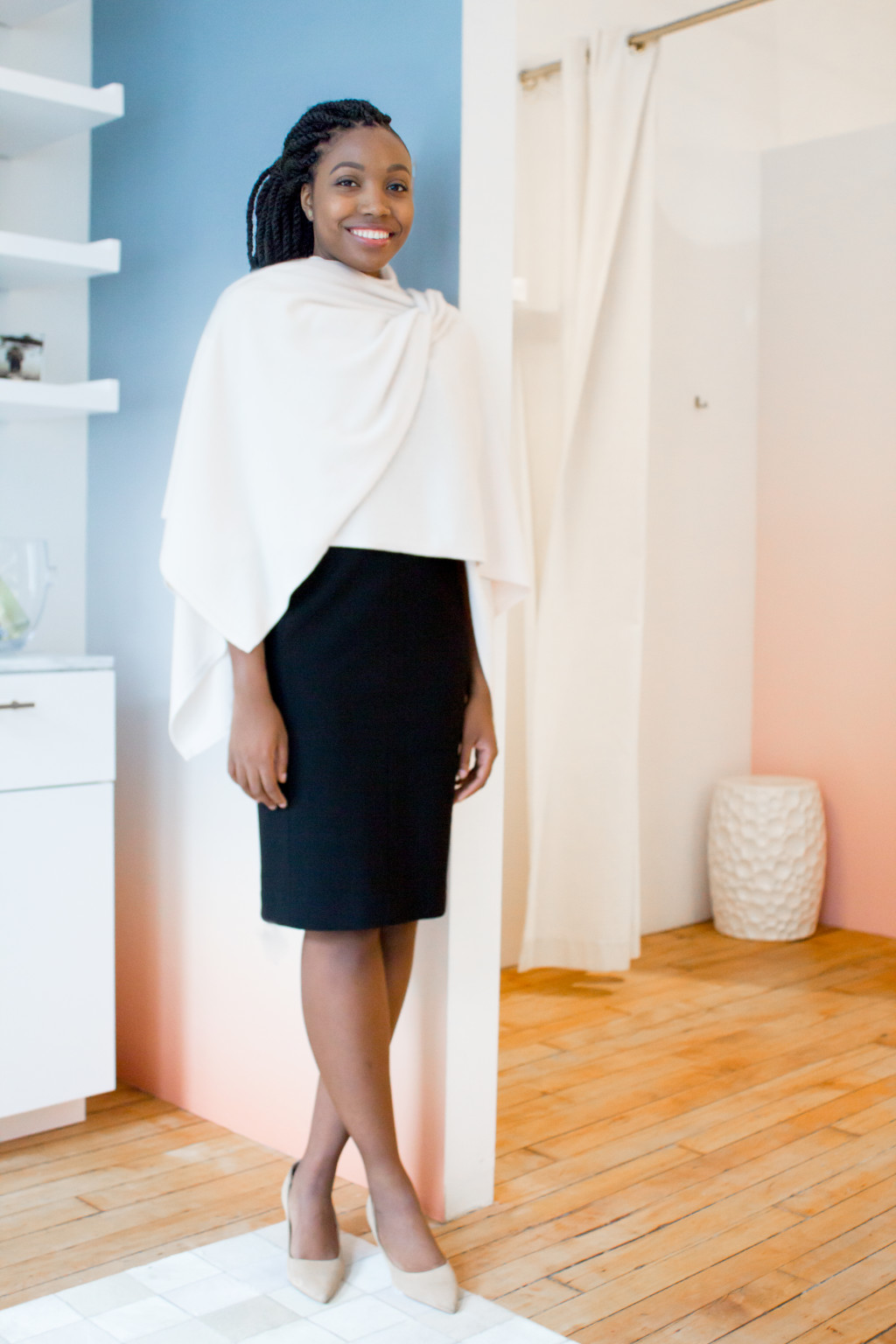 When: You're meeting friends for Sunday brunch and can't be bothered to coordinate a real outfit.
How to style it: With the notch at the back of your neck, throw the right panel of the shawl over your left shoulder, and the left panel over your right shoulder. The result is a criss-cross that looks chic and prevents your cashmere from dragging through your Eggs Benedict.
What to pair it with: Jeans, a T-shirt, and your comfiest flats. Why yes, friends, I did wake up like this.
5. The Chic Alternative to Your "Desk Sweater"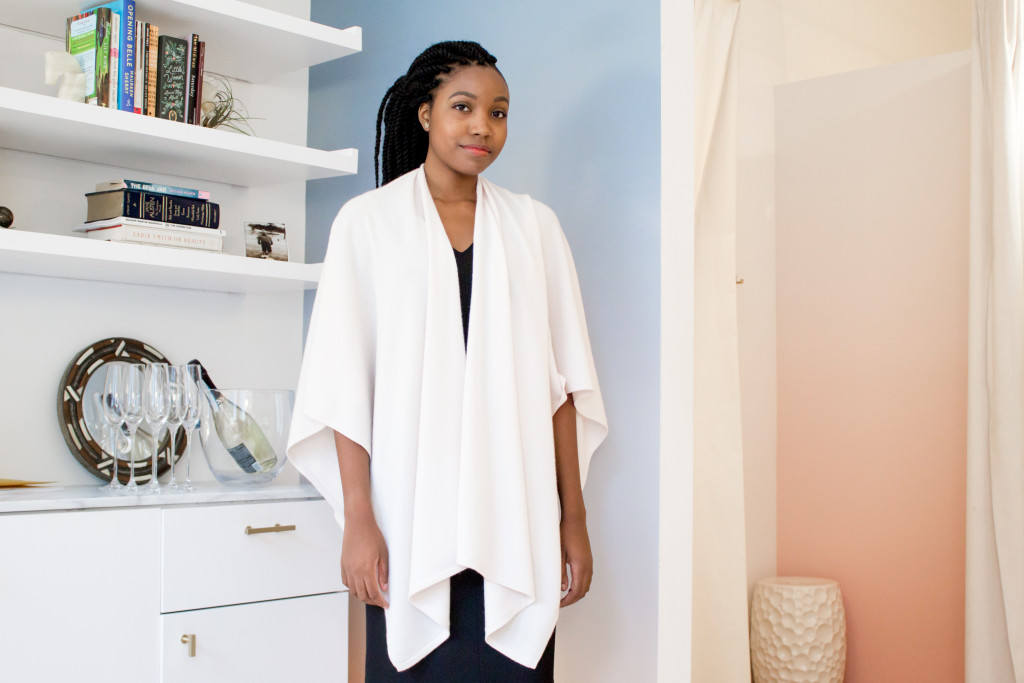 When: The office AC keeps blasting on and off, and you need to react accordingly.
How to style it: Couldn't be simpler—just throw it over your shoulders and let it hang. Your arms will be free to type, write, and reach for your coffee, and you'll be nicely shielded from any arctic blasts.
What to pair it with: A streamlined dress, or classic work pants and a blouse.
6. The Parisienne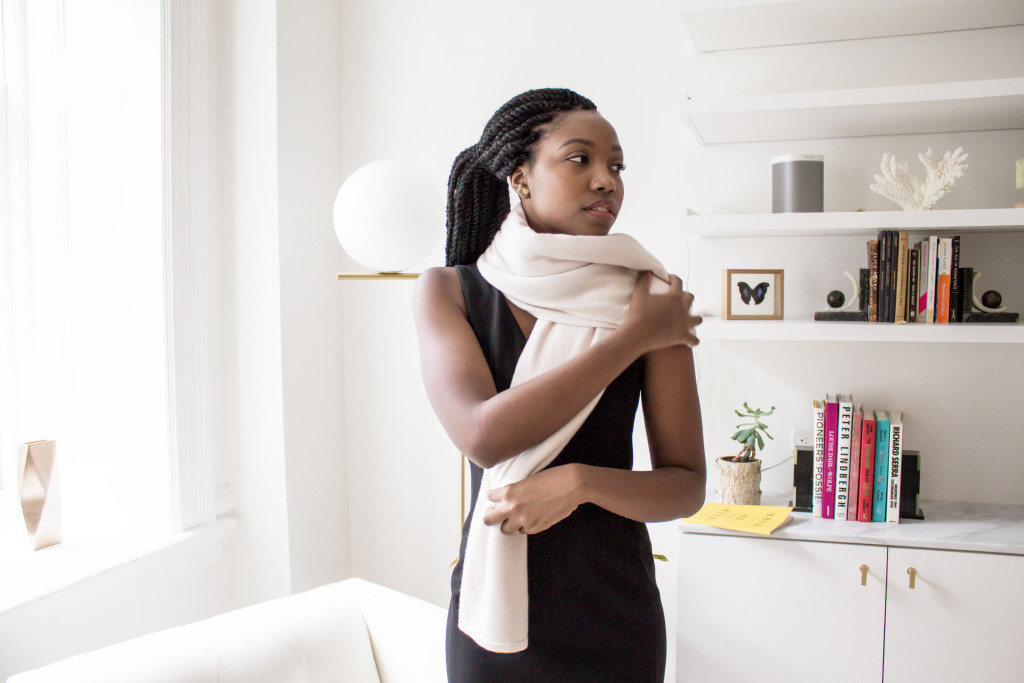 When: You're zipping through the Marais on a scooter (or just want to look French).
How to style it: Fold the shawl in half lengthwise two times. Drape it around your neck and voilà: T'es super chic comme ça.
What to pair it with: A red lip and a pack of Gauloises. (Just kidding. Don't smoke.)
7. The Veil of Secrecy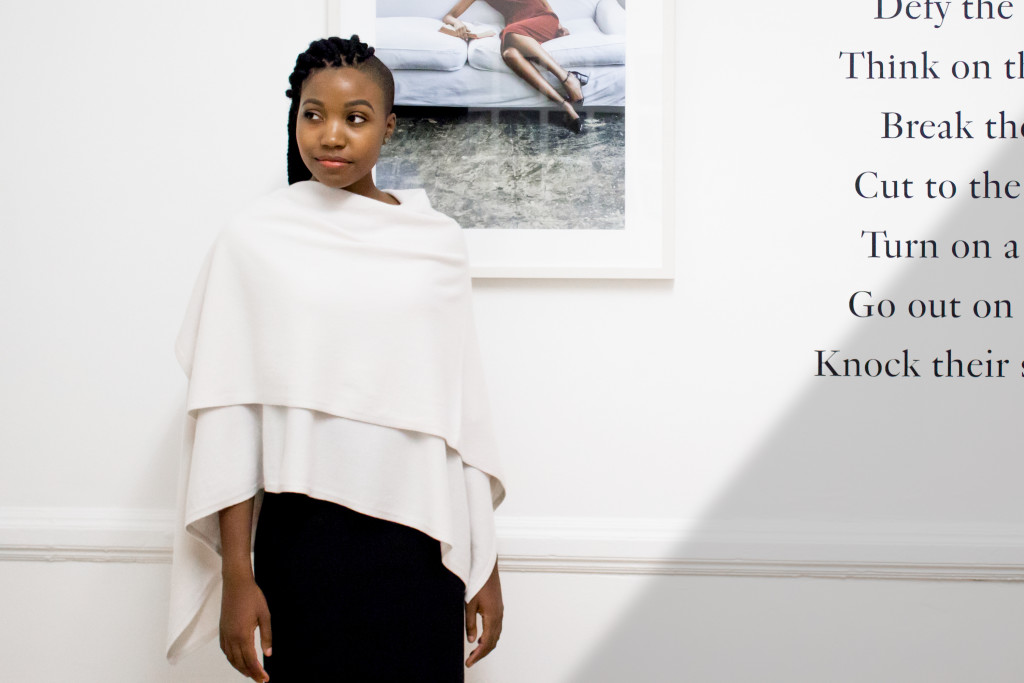 When: You accidentally wear the same shirt two days in a row.
How to style it: Pull one end of the shawl across your chest and hook it over your opposite shoulder, so that it hangs diagonally in front. Drape the other end of the shawl across this layer and over your other shoulder, so that there are two diagonal lines parallel to each other. The beauty of this look is that the double diagonal creates an elongating panel that completely hides your outfit-repeating.
What to pair it with: What you wore yesterday.
8. The Caped Crusader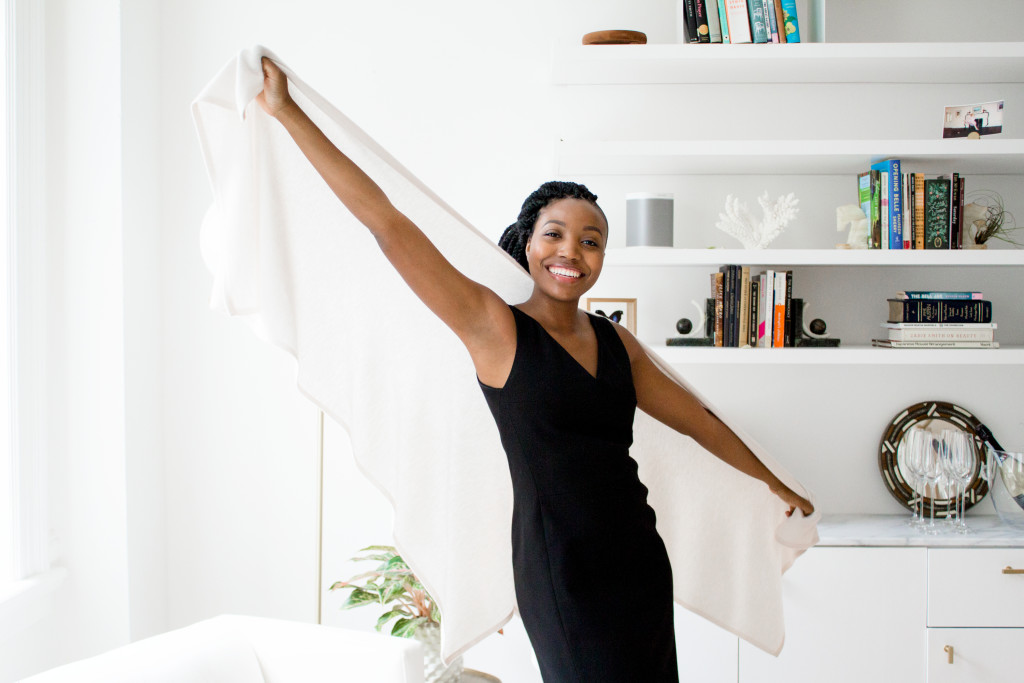 When: When you just want to play superhero.
How to style it: Do you even have to ask? Find an empty stretch of road, channel your inner Usain Bolt, and let the shawl fly behind you like a cape.
What to pair it with: No one will care what you're wearing; they'll just be in awe.