Ampersand Woman: Hitha Palepu
January 30, 2013 | Filed in: Woman of the Week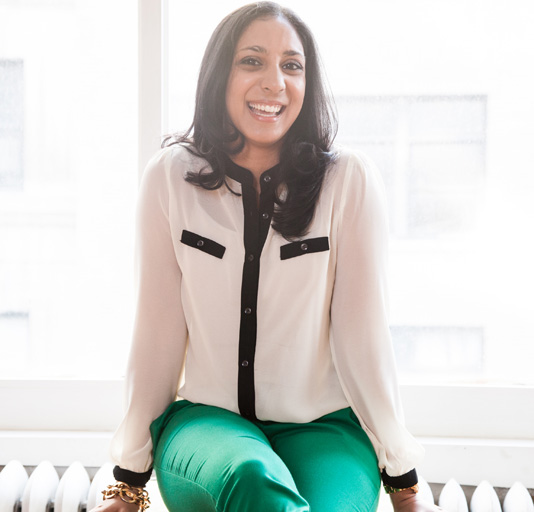 It's not every day you meet a business development executive who's simultaneously running a beautifully curated style blog. That's why we're thrilled to introduce our latest Ampersand Woman, Hitha Palepu.
After graduating with dual degrees (in biochemistry and history, no less), she went on to work at Cisco Systems, entering their competitive Sales Associates Program.  After three years at Cisco, working with global pharmaceutical companies, she made the jump to SciDose to head up operations. She's since transitioned to managing business development and developing the company's emerging markets strategy. If you're wondering when the girl sleeps- we are, too.
Get the details on Hitha's morning routine, her workwear fashion weapon, and the life motto that keeps her going after the jump!
Name: Hitha Palepu
Location: New York, NY
Occupation: Vice President, Business Development at SciDose / Founder of Hitha On The Go
I hail from… all over, but I consider Philadelphia to be my hometown.
I currently live in… NYC
My morning routine before leaving for work is… Before I can get my workday started, I have to write my morning pages (a la The Artist's Way), read the newspapers (NYTimes, WSJ, and Women's Wear Daily), and down a green juice and my vitamins.

My personality at work in three words: Energetic, detail-oriented, organized
How I like to dress for work: Skinny pants and a collared blouse for casual days, and a tailored dress in a jewel-toned hue for the more professional days.
My workwear fashion weapon is a… Patent pointed-toe flats for walking, and a sharp heel for the rest of the time.
My favorite workwear brands are… MM.LAFLEUR, of course!  I love blouses from Hunter Dixon and J.Crew, pants from ASOS and Alexander Wang, and dresses by Rachel Roy and Ann Taylor.  Zara makes some of my favorite blazers.
When I grew up I wanted to be… Mr. T from the A-Team, and a pediatric oncologist.
When I "grow up" I want to be… CEO of a life sciences company and a published author.
My mother always said… Be nice, work hard, and major in something that will put food on the table.
What I wish I knew when I started working: The importance of mentors.  Cultivating a relationship with professionals you admire early on can play a major role in your career. 
If I could have a power lunch with anyone, living or dead, it would be… Ivanka Trump
If I could have happy hour with anyone, living or dead, it would be… Hillary Clinton
Finish the following sentences:

Success is… the ability to be selective on what you work on and a new project up your sleeve.
Happiness is… loving what you have and working towards something new.
Sexy is… confidence and a killer statement item.

A working woman can never have too many… black leather bags.  That's what I keep telling my husband to justify my purchases.

Your motto: "Winners never quit and quitters never win." – Vince Lombardi