I Outsmarted the "Working Mother Industrial Complex"—and Then Opted Out
July 27, 2015
When my baby was three months old, I started a brand new job. It was a part-time marketing gig (20 hours a week) at a local restaurant group that could potentially blossom into a full-time opportunity. I would report to the office once a week and otherwise work from home, during my baby's naps and after her bedtime. In a pinch, I was welcome to bring the baby to meetings. And if that didn't sound good enough, the casual dress code meant that I never had to worry about accidentally shredding the lining of my pre-pregnancy blazers. If this wasn't "having it all," I don't know what was.
Because I wanted to be a working mom but didn't have a full-time job before I gave birth, this was an exciting offer. It was the perfect opportunity to dip my toes back into the professional world, while still reveling in the stickiness of new motherhood. I arranged for my mother to babysit on the days I went into the office, while my husband, who also works from home, agreed to watch the baby for a couple extra hours a week. It all seemed so easy and inexpensive. I truly felt that I had fooled the Working Mother Industrial Complex by being my child's primary caregiver while pulling in a paycheck. All I needed was a rock-hard core and everything would be just as it should.
Unfortunately, I failed to realize that my Have-It-All plan hinged on three very unpredictable variables: a job, a baby, and free childcare. I quickly learned that time-sensitive work matters would flare up during feedings, naps were sometimes nonexistent, and—heaven forbid—my mother had her own life and couldn't always fill in. Additionally, my husband often couldn't provide the extra support, because, financially, his breadwinning job came with scheduling quirks that had to come before the sporadic demands of mine.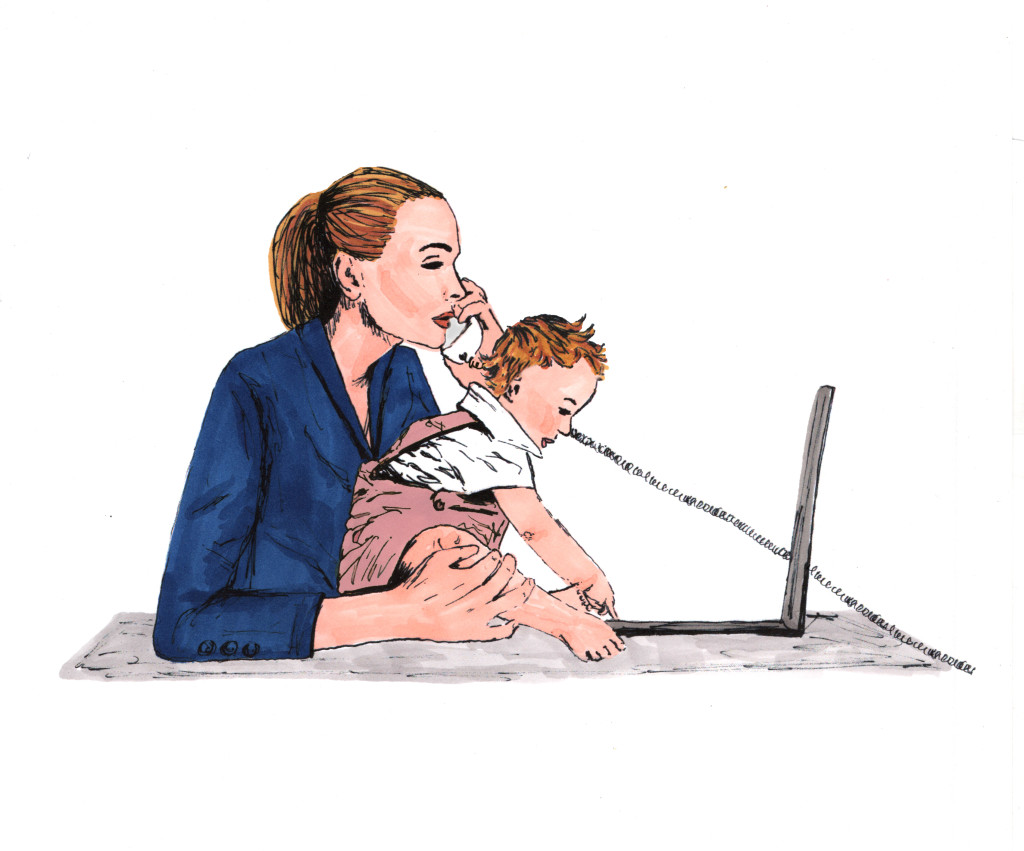 I ended up spending more energy cobbling together convoluted daily schedules than I did on my actual work or my baby. Time with my daughter was spent anxiously—her in one hand and my phone in the other—which defeated the entire purpose of being at home. When an unexpected snowstorm hit in the middle of the day, I was charged with pushing out rapid-fire communications to let customers know that our restaurants were open and offering snow-day specials. This all went down during my baby's waking hours. If I were focused on the laptop for too long, she would cry. If she cried, she would disrupt the conference call that my husband was leading in the other room. My mom was buried in snow and couldn't come assist. I was the sweatiest person in the city that day. I got the job done, but not without typos.
My juggling act was unsustainable. I needed to make a decision before everything imploded: Take on the job full time and arrange outside childcare, or quit. Succeeding at this job, which I wanted, meant that I would have to become a full-time office employee, which I did not want. But I found that being a part-time employee and parent was much more stressful than being a full-time anything. In the end, I quit. I wanted to be with my baby more than I wanted the job.
The good news is that this experience has not discouraged me from being a kick-ass mom and an ambitious person who will continue to seek gainful employment. My baby is nine months old, and I am content with my decision to stay at home with her for now. Just because the balance didn't strike within the first year of her life doesn't mean it's unreasonable to keep striving for a situation that works best for me and the financial health of my family. The rock-hard core will come after all that, of that I am sure.