Take It Up a Notch: How Our Belt Designer Discovered Her Passion
December 14, 2018 | Filed in: Humans of MM

Courtney Frevola didn't start out as a belt designer—but now, we can't imagine MM.LaFleur pieces without standout accessories like the Crossover, Broadway, and Double Wrap belt, all conceived and designed by Courtney herself. We recently sat down with her to learn about how she became fascinated with design, where she finds inspiration, and the outfit-transforming power of a great accessory.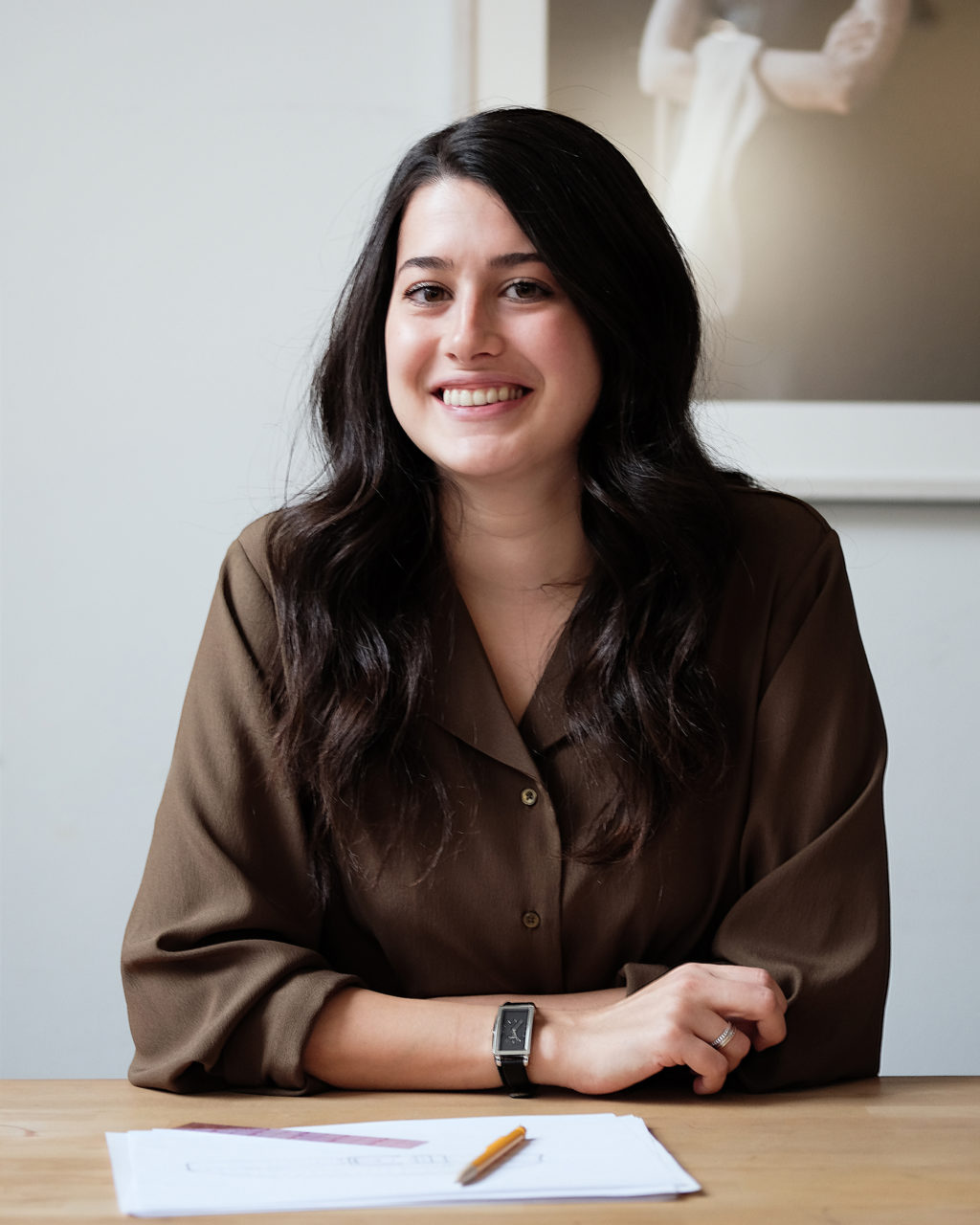 On getting into belts at MM:
My official title is Product Development Manager, which means I help to take our clothing from the design phase into production. I'll pick up from the point when the design team has finished their initial sketching, then work with them through the fitting process to make sure their vision comes through into the final product. I love getting to work on such a wide variety of garments at so many different points in the process, but I also have a very enjoyable side gig: designing our belts.
Taking on belt design was a happy coincidence. I had been at MM for a while and I was working on all kinds of product development, but I wanted to be exposed to new areas of design. At the time, we hadn't yet expanded into categories beyond clothing—this was over three years ago, and there were only about 20 employees. Miyako, our creative director and head of design, wanted to have belts to go with the new garments we were creating and gave me the job of designing them—and I just ran with it.

On finding inspiration everywhere: 
My inspiration for new designs can come at anytime: I'll see a belt or buckle or funky accessory on a person on the street or in a photo online, and I'll immediately sketch it to preserve the image in my mind. I'll present the best of those sketches to our director of design, Georgia, who offers feedback, and then I'll go from there. Along the way, I'll come back with different iterations, we'll tweak the design here and there, and brainstorm what type of garment it would work for. Later, I'll put together a technical sketch with actual measurements, color, and stitching notes to pass on to the factory, and then I anxiously await the sample return. After a few more iterations, and a bit more back-and-forth with the manufacturer, the prototype is good to go into production. 
My favorite part about belt design is the fun snowball effect of it: One minute I'm on the subway staring at a girl's boot buckles and taking mental notes. Fast forward a few months, and that initial inspiration has become an MM belt and it's being styled for a photoshoot or available for purchase online—it's an exciting whirlwind.

On discovering her love of design:
When I was growing up, I always liked to draw, but I wasn't particularly great at portraits or some of the other kinds of drawing we'd focus on in art class. In high school, I was able to take a fashion design class and I soon realized that sketching was the perfect compromise between my interest in drawing and my inability to perfectly render the details of a face or emotion. The teacher was awesome and my interest in fashion and design was really sparked there.
I went on to go to school for design at Marist College, and after school I worked a few different design jobs, one of which was with Arushi, our director of design and product. When she joined the team at MM.LaFleur, she introduced me to the brand and I ended up following her there. The great thing about being able to work on our belts and product development is that I get to do some design and some development work, which is a nice hybrid of all the things I'm interested in, and not something that would happen at a lot of other companies.
On the magic of a great belt:
The first belt I designed was really exciting: It was amazing to sketch it, pick out the leather and the string for stitching, and then finally see the prototype. You have a picture in your head of what the design will look like, but when you see it in 3-D, and are able to hold and touch it, it's a totally different experience. It's really exhilarating. When I look back on some of the first belts I designed, the Crossover belt holds a special place in my heart because, in addition to it being our best-selling belt to date, I feel like it has the power to totally transform an outfit—it adds structure and shape to whatever you wear with it.
Before I started designing belts, I never considered myself a huge accessory person. Now, I incorporate belts into my outfits way more often. They're also popular samples: people in the design office are always asking me if they can try on the prototypes when we get them back, which is incredibly helpful for me in terms of making sure the buckle works, the strap width makes sense, and that everything is even and looking fantastic.
My roommate loves that I design belts—she doesn't always have to dress up for work, but she comes to me whenever she needs to take her outfit up a notch (pun intended). It's really fun for me when she'll come into my room and pick out a belt from my closet and wear it to work. It's so cool to know, in the back of my mind, that I brought that piece to life.