Entrepreneur Sarah LaFleur and The Story of a Startup
November 01, 2012
MM.LaFleur is the sartorial vision of analyst turned entrepreneur Sarah LaFleur. She's a woman with a singular mission: to rid the world of the frumpy pantsuit (and replace it with a wardrobe of elegant, work-appropriate dresses).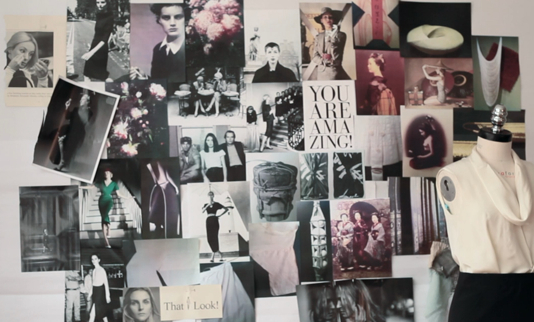 Sarah's story started years ago—as a seven-year-old watching her mother dress for work. Clad in impeccably tailored Parisian suits finished with a slick of red lipstick, Sarah's mother was, to her, the most powerful woman on the planet.
Fast-forward twenty years. Despite working at her dream job at a management-consulting firm in New York City, something was missing. Sarah attributes the void to a daily dissatisfaction with her drab wardrobe. "I just didn't feel like that powerful woman in my poorly tailored, ill-fitting clothes," Sarah says. "I decided it was time to change. Eradicate ill-fitting suits once and for all and create a line of beautiful yet professional dresses."
"I worked in Paris and New York for a private equity firm where I managed its luxury goods portfolio. Before that, I was working in South Africa, studying business opportunities in agriculture and its impact on food security. When I look at them side-by-side, I realize how disparate these jobs must sound, but to me they've been part of one big journey—understanding how to make beautiful things while sourcing and producing responsibly."
When Sarah met designer Miyako Nakamura, formerly of Zac Posen and Jason Wu, the pair clicked instantly. "This sounds like something you would say about your future spouse, but I just knew. She has an unwavering inner strength to her—the word often used to describe this in Japanese is 'shin'—and it was magnetic."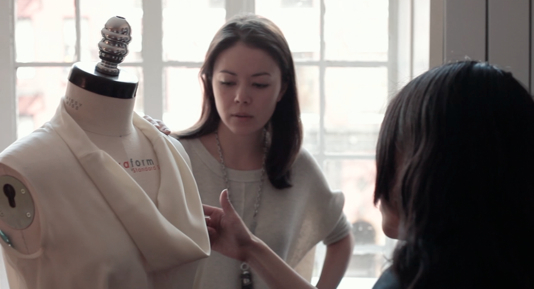 Once Miyako was on board, things began to move quickly. "Initially, I had absolutely no idea where to even begin," Sarah says. "I walked around the Garment District and would go into random fabric stores that allowed non-wholesale customers."
"Many fabric houses won't work with young fashion businesses," she explains. In Miyako and the brand's production manager, Flora, the team collectively amassed 40 years of relationships and expertise in the industry.
While fabric was sourced from the top mills in Italy and Japan, Sarah was also determined to produce all garments in New York. "I've grown up in many cities. There is no other in the world that is more conducive to launching a fashion business…I didn't realize how alive manufacturing is here until I found myself in one of the factories—New York is a fashion startup's paradise." Perhaps most importantly, Sarah found, was the sense of community. "People want you to make it. Countless individuals have gone out of their way to help us out. [This] is the American dream."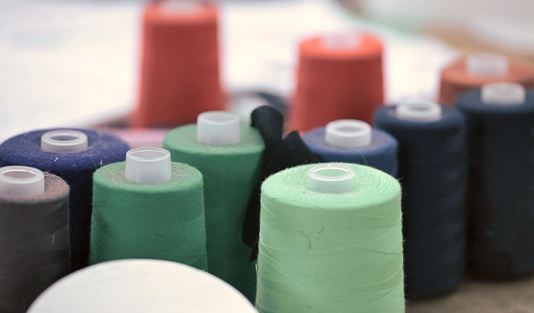 Dream or not, the path hasn't always been easy. "My friend Lucy, who is also an entrepreneur, told me, 'this is the closest you will come to self-induced bipolar.' There are some highs and there are some real, real lows." While many people suggested Sarah distract herself when hitting a low, one advisor told her to do the exact opposite. "She told me to sit with [my problem], wrestle with it and get to the bottom of what was really bothering me. How refreshing that was!"
Sarah continued to build her team, adding Narie Foster on the operational side ("my entrepreneurial better-half"). "We work hard, laugh a lot, and then pull out the occasional bottle of gin—I mean, champagne—at 4p.m., just because the day calls for it."
The brand tested the market quietly over the summer, debuting a pre-launch collection dubbed "seven perfect dresses for the workplace." Officially launching this December with a collection of 10 dresses and selling directly to customers through trunk shows and an innovative website, the brand is able to keep prices affordable without compromising on materials or construction. "A dress that is made with the quality and care we put into it could easily be priced at $1,000 at another brand," Sarah says.
The site is another coup that Sarah is particularly proud of. Utilizing what she calls a "virtual changing room," guests are invited to complete a survey detailing their style preferences, personality and wardrobe hopes and dreams. An advanced algorithm then cross-references the results with the collection and recommends up to four dresses that would be best suited to each guest. "It's designed to give you recommendations that rival those of your favorite, most knowledgeable personal shopper," she says. "A personal shopper who also happened to have conceptualized and produced the entire line."
She's worlds apart from where her career began (although, ironically, the Garment District is just two blocks north of her first office in the city)—and there's no looking back now. Amidst preparation for the much-anticipated site launch in December, Sarah pauses to muse about the future ahead. "Our team has no shortage of big expectations—so it won't come as a surprise that my ambitions and hopes are large. But by far, what I focus on is that we don't stray from our core: to create luxurious products and a better buying experience for the modern-day woman. And to make her look and feel beautiful."