Ask a Stylist: What to Pack for a 5-day Business Trip to Chicago
April 15, 2017 | Filed in: Ask a Stylist

There's nothing like a cross-country business trip to salt your work-wardrobe game. Not to worry: We've tapped our stylist team for their top picks for five days in Chicago. It goes without saying that you'll need wrinkle-resistant, versatile outfits; we've also made sure this list includes pieces that can handle the Windy City elements and still look impeccable. And if your trip gets extended and you're suddenly in need of one more power outfit, we'll be in town from May 3-14. Book a pop-up appointment here.
Looking for more tips? Check out How to Pack by Hitha Palepu, travel warrior and MM heroine.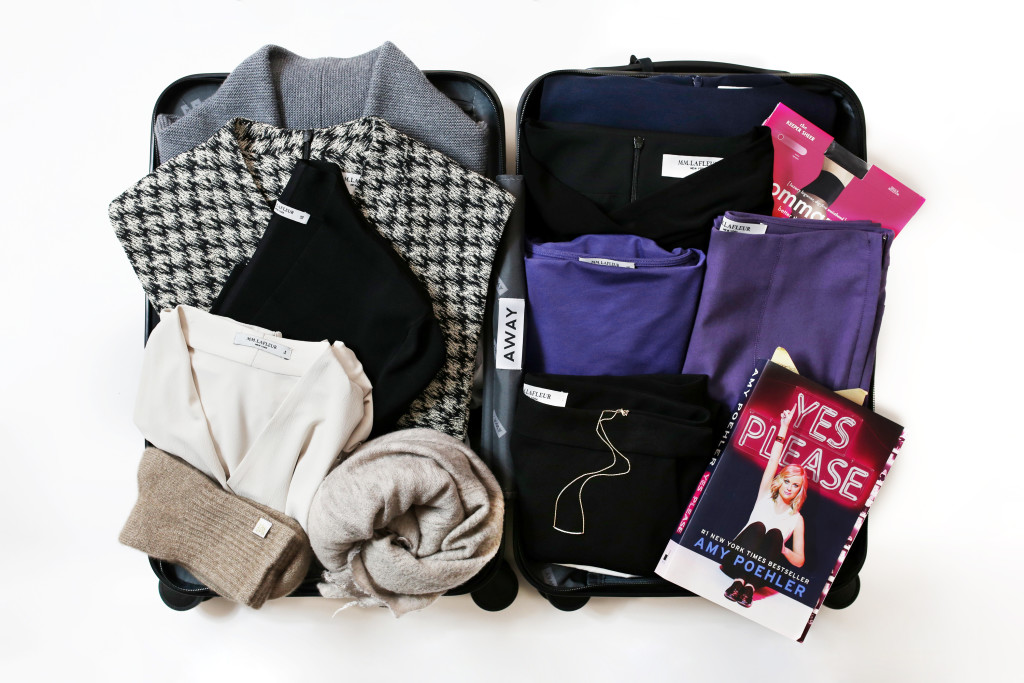 Packing List
Garments:
Accessories:

Why it works: The tailored Rachel dress is comfortable and stylish, yet still checks all the boxes for buttoned-up boardrooms. Our structured ponte fabric is soft and stretchy, and the fitted silhouette means you don't have to worry about a Marilyn Monroe moment in the wind. Bonus: The Rachel layers beautifully over tights, should you be visiting in the colder months.
Perfect for: Back-to-back meetings followed by cocktails in West Loop.
Transition to evening: Add the Morandi 2.0 sweater to ward off a nighttime chill.

Why it works: The Soho and Winfrey are the epitome of travel-friendly: Their soft jersey fabric is so wrinkle-resistant that you can ball them up, stuff them in your bag, and then throw them on without a hitch. When worn together, they combine to look like you're wearing a dress, but they can also be worn as separates—which you'll do on days four and five.
Perfect for: A travel-heavy day where you want lots of stretch to dive into a cab, take your seat at the conference table, and slide onto a bar stool at happy hour.
Transition to evening: Wrap the Herringbone scarf around your neck for some color.

Why it works: A relaxed pair of pants that can be worn with heels or flats is a business-trip staple. The Wilder tucks beautifully into the Dupont 2.0 pant, and the Thread necklace complements the shirt's V neckline. 
Perfect for: Presentation day: You'll look polished, crisp, and cool under pressure.
Transition to evening: For a post-work stroll along Lake Michigan, slip on the Morandi sweater and tie a loose knot in the back.

Why it works: On the tail end of your trip, comfort is key, and the Soho skirt and Wilder top make for an easy pairing—wear the top loose, or tuck it in to accentuate your waist. Add the Thread necklace for some subtle sparkle.
Perfect for: A day when you've penciled in time to sneak out to the Art Institute, followed by a celebratory dinner at the Girl and the Goat (get the bucatini—that's what stretchy waistbands are for, after all).

Why it works: Your last day in town calls for a fuss-free outfit that's equal parts comfortable and chic. Tuck the Winfrey top into the Dupont 2.0 pant and add the Herringbone scarf, which doubles as a blanket / pillow for the plane.
Perfect for: Snoozing on your trip home after a whirlwind day of wrap-up meetings.
Photographs by Yan Ruan.
Suitcase provided by Away.