The Footwear We'll Never Forget
October 26, 2018 | Filed in: Humans of MM

Shoes hold a lot of power—they can announce your arrival from the hallway, make or break an outfit, and be the difference between a confident stride and a painful hobble. In honor of our new shoe collection,"Backwards and in Heels" (coming October 30th!), we asked colleagues and peers to share stories of particularly memorable pairs. 
"I was applying for an 'adult' job for the first time, and I thought to myself, I need to look good. So, of course, I went to Loehmann's to buy my first-ever pair of high heels, because that's what important businesswomen wore to interviews. I bought a pair of black pumps that I absolutely could not walk in—they were way too high for me—but I was convinced that anything lower wasn't professional. I went to the interview and brought the shoes to change into and as soon as I did, I thought Oh, this isn't going to go well—and that was before I found out the room was up two flights of stairs. Thankfully, I made it up the stairs and I got the job. Those heels made a big impression on me. I remember posting on Facebook, "I bought my first pair of high heels today. " They made me feel like, I'm a businesswoman and I have a job. I've made it."
—Hope, Teacher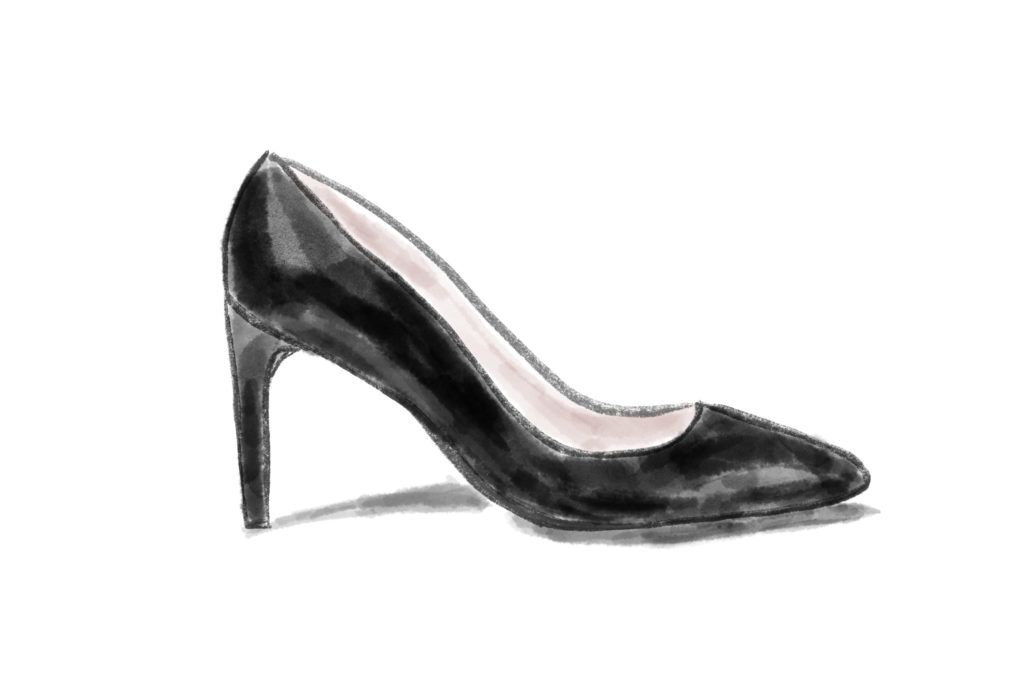 "My mom has always been one of my style icons. When I was little, I used to try on her clothes and put together outfits, pretending I had somewhere important to be, just like she did. But my favorite thing to do was wear her shoes. Beautiful pumps, strappy sandals—they all looked so luxurious to me. Like a lot of other little girls, I'd wobble around in her high heels that were three sizes too big for me, looking forward to the day I'd finally be able to fit in them.
As I grew older, I was finally able to borrow some of her shoes (although only for special occasions). I was always careful to take good care of them, lest I be banned from borrowing them in the future. I must have proved myself trustworthy because we still swap shoes to this day. I still get to play dress-up in her closet, and for her…well, it's a very one-sided deal."
—Alison, Experience Ops Coordinator
"When I started working at MM, I would always see my coworkers walking around in heels looking super elegant and put together. I decided that my New Year's resolution was going to be to learn how to walk in high heels. I planned it all out: I bought kitten heels to start, and I got advice from friends, and I slowly worked my way up to actual high heels by the end of the year. It does make me feel more powerful if I feel like my shoes look good, because I stand differently when they fit well. I think that great shoes make you feel like you are capable of doing anything."
—Emily, Senior Internal Communications and Employee Engagement Manager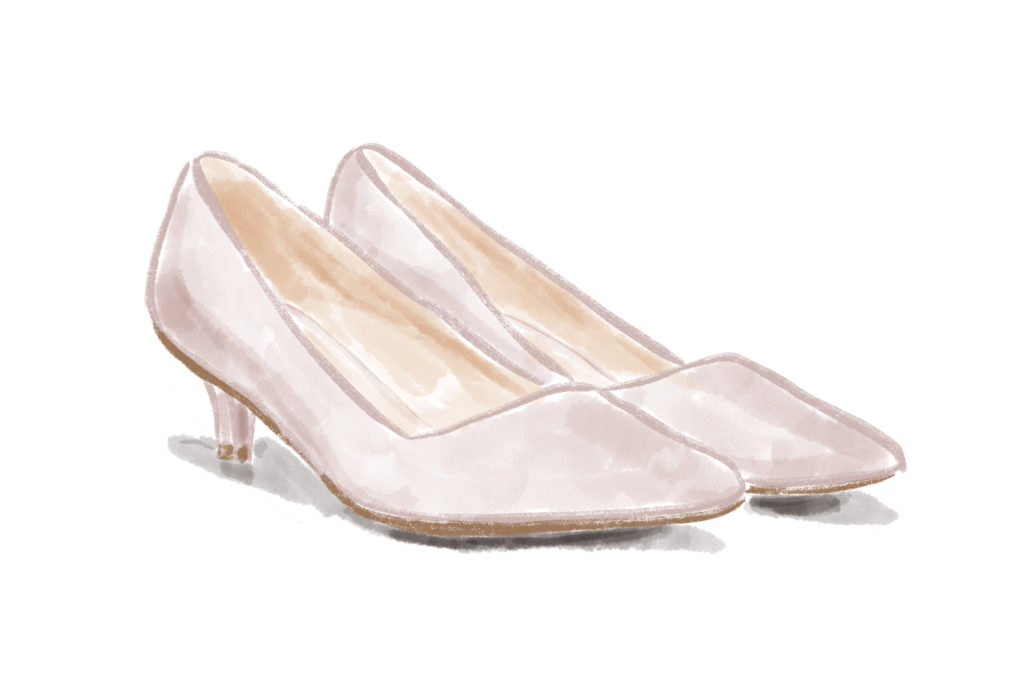 "When it was time for me to attend my first school dance, I pulled out all the stops. I made an appointment to get my hair and makeup done, and dragged my poor dad to the mall in pursuit of the perfect outfit. After several hours in the fitting room I decided on my dress (a flared, hot pink number with black lace overlay—yikes), and it was time to find a matching pair of shoes. I'd never worn high heels before, but it was such a special occasion. I felt incredibly grown-up trying on different pairs of pumps on the department store shoe floor. I chose a simple black pair that the saleswoman told me I would wear for years—and she was right."
—Alex, Senior Brand Associate
"I grew up with two older brothers in a very sporty family, and I was definitely a tomboy. I was never really interested in dressing up in princess costumes with the accompanying plastic heels and neon jewelry to match. Most of the time I was running around in the same GAP sweatshirt, soccer ball in tow, trying to keep up with my brothers. One activity I loved, however, was hanging around while my mother got dressed up to go out. I'd perch on the plush cream comforter in my parents' bedroom and observe in awe as she selected an outfit, spritzed on perfume, and applied makeup. When I wasn't offering expert 6-year old advice, I was dousing myself in too much perfume and smearing on her lipstick.
My favorite part was the finishing touch—picking the perfect shoes to complete the outfit. I'd try them all on—oversized boots going up to my knees or heels only half filled out by my small feet—and insist that she had to wear the ones that I had picked. She almost always gave in, even if they didn't work with what she was wearing at all, which I see now as a testament to how much she loved me."
—Hailey, Content Coordinator
"I distinctly remember a pair of pink shoes that my mom 'gifted'—I say in quotes because I had begged her to buy them—me for my birthday. I was in fourth grade, and I loved them so much that when I thought no one was watching, I kissed them (turns out, my mom was watching). Later, when it came time to buy my first pair of professional shoes, I chose a pair of red leather pumps that were gorgeous—but so uncomfortable! When it comes to footwear, I'm still looking for that perfect pair—the ones I'll love as much as those pink shoes."
—Cynthia, Quality Assurance Engineer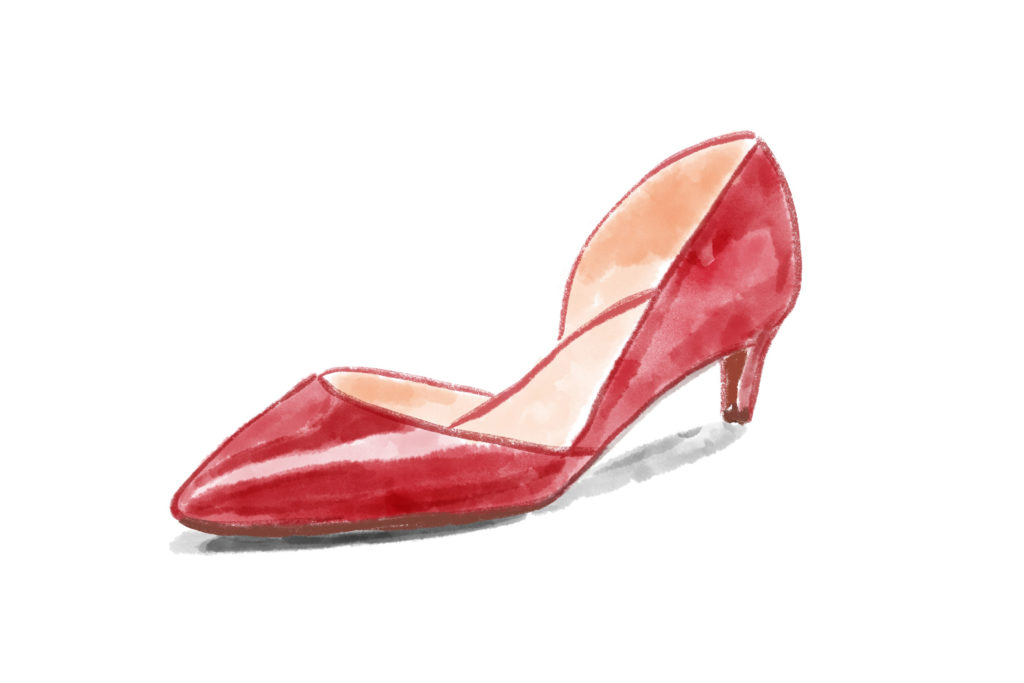 "I once had a shoe thrown at me. I used to do theater and once, when I was in a play, an actor threw a tantrum in dress rehearsal. He was furious because he felt that his shoes were not the shoes that his character would wear. He took one of them off, threw it behind him without looking, and it went whizzing by my and my co-star's head. I guess the moral of the story is that the right shoes really do matter."
—Maddie, Human Resources Coordinator
Live in one of our showroom cities? Join us for a first look at our "Backwards and In Heels" shoe collection on Tuesday, October 30. Email events@mmlafleur.com to learn more.
Illustrations by Yan Ruan.