#inmyMM with Lawyer Bridget Kane & Longtime MM Customer
March 22, 2016
We're kicking off our #inmyMM series with New York City-based lawyer Bridget Kane (and longtime MM.LaFleur customer). The consummate MM woman, she's an ambitious trust-and-estates attorney with a penchant for reading sci-fi (Neil Gaiman's Neverwhere is her all-time favorite) and drinking espresso in bed.
Bridget recently invited us to her Brooklyn apartment to talk workday rituals, her weekly uniform, and her favorite stress-relieving strategy. Bonus: We also got to hang with Toby the pup (who will perform almost any feat if you offer him some popcorn).
Hey Bridget! Did you always know you wanted to be a lawyer?
I've been interested in law since I was very young—my dad's a lawyer. He was in the state legislature in Maine, so I grew up going there with him. Initially, I wanted to be a U.S. senator, so I worked for a senator in college but realized that was not necessarily the path I wanted to pursue. I've always been very public-service-minded, but that lifestyle comes at a huge cost to your privacy. Running for office involves intense sacrifice.
So you went the legal route.
Yes, but not right away. Before I went to law school, I spent a few years doing Teach for America in Charlotte, North Carolina. I taught sixth grade, which was a perfect fit for me. I love that moment when kids start to become adults, but they're still little kids—and that's definitely sixth grade.
You always look so elegant in your MM. Do you have a philosophy when it comes to dressing for work?
I do now. MM.LaFleur helped solve this riddle for me. My work wardrobe always felt pieced together, but never cohesive. Now I have a uniform. On Mondays and Tuesdays when I mentally shift gears from the weekend, I'll dress up a little more and probably wear black. To me, black is both professional and easy. On Wednesdays and Thursdays, I'll wear a patterned dress—I love the Etsuko Crackle. On Friday, I'll wear the Hepburn shirt with black pants. Or if I have to go to court, I'll wear the Sarah dress with a black blazer.
What's your favorite MM piece?
The black Etsuko and the black Tory are tied. The Tory is a Wednesday-Thursday dress, and the Etsuko is a Monday-Tuesday dress or a court dress. I like to wear both of them when I have plans after work.
What style advice would you give to young lawyers just starting out?
Err more conservatively than you might think. You'll hear advice that's like, "Wear accessories that show your personality!" But actually, no. Don't do that. Play it safe to get your foot in the door, and then feel it out. In my experience as a lawyer, it's better to keep a low profile as you're establishing yourself.
Any workday rituals?
Yes—lunch. I'll clear my desk of any work and then read New York Magazine while I eat. It's usually just 20 minutes, but it's such a nice break in my day. I try to bring lunch from home. On Saturdays, I go to the Green Market, and on Sundays, I cook a few mains and several veggies (miso sweet potatoes, dinosaur kale with garlic and ginger). I mix and match throughout the week. By Thursday, I've run out of options, so I'll order salmon from Mangia.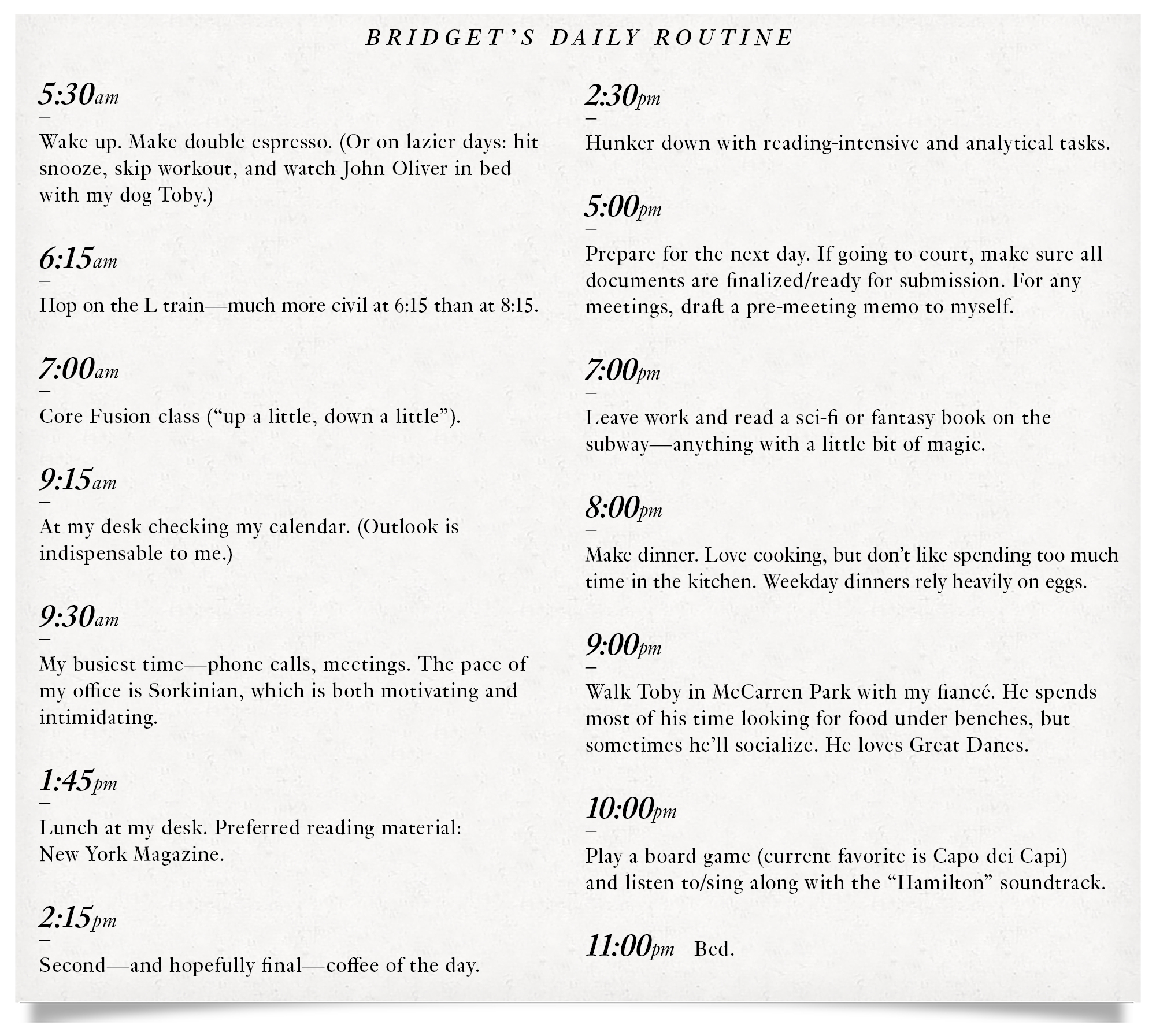 How do you celebrate a big success at work?
If I want to celebrate but I'm exhausted, I order Best Pizza—they quite literally have the best gluten-free pizza—and watch Doctor Who. If I'm full of energy, there are a few places I love to go out in Manhattan. I Sodi in the West Village is so good. One time we walked in, and Bill and Hillary Clinton were having dinner with Meryl Streep and her husband.
Did you try to be cool, or did you freak out?
We coolly freaked out at our own table. But the place is tiny—maybe 12 tables—so after dinner, Bill started schmoozing everyone. He came over and was like, "Hey guys! How was your dinner?" Best dinner we've ever had.
What about when you have a bad day? Any coping mechanisms?
Acupuncture is the best thing in the world. It really works for stress relief, but it also gives me 40 minutes to just meditate and get some perspective on whatever happened that day.
Whose career do you admire?
Arianna Huffington. I love her Thrive movement, and I hope it will be the standard in 20 years for both men and women. It's so important that we redefine success—it's not just about how big your house is or what's in your bank account. Because if you have a mansion and then have a heart attack at 50, have you had a successful life?
Sounds like you have a bit of a contrarian streak. 
Definitely. In fact, my mom used to sing that song—"Mary, Mary, quite contrary. How does your garden grow?"—to me when I was little. I really like playing the devil's advocate, just to make the conversation a little deeper, a little more interesting. It has its advantages—it makes me a good lawyer because I'm able to think from all angles—but my sister might tell you it's pretty annoying. I'll say, "Sure, but did you know that …?" or "Have you thought about it this way?" I've gotten better at asking these questions in a more sensitive way, rather than just giving my (strong) opinion, but it's something I'm still working on. I've learned that you can push the envelope a little further if you're diplomatic about it.