How To Quit Your Job in Style
October 16, 2013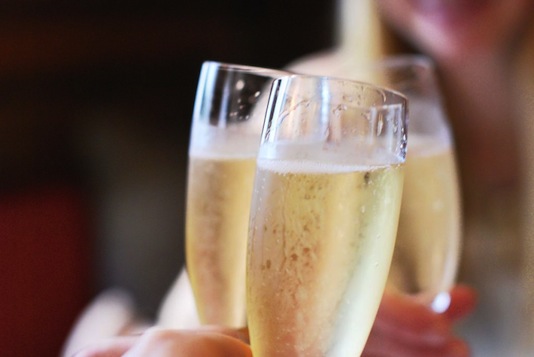 Have you ever noticed that when you tell people you've quit a job, their first reaction is often to say, "Congratulations!" The first time this happened to me, it struck me as odd. But as my friends and I have cycled through jobs in our twenties, I've come to understand that quitting a job can feel as triumphant as landing one. It's a sign that you're off to bigger and better things—and an excuse to pop the champagne.
But once you've decided to quit, breaking the news to your boss is a whole other matter. Some advocate for the gracefully executed quit, while those like Marina Shifrin believe you might as well go out with a bang:
We're not sure if we can top that, but here are a few quitting stories from members of the MM.LaFleur team.
"After a painful meeting during which I told my boss I wouldn't be sticking around, I walked through Soho where I ran into a jewelry stand on the corner of Spring and Thompson. I bought myself a beautiful pair of blue earrings. I call those earrings my 'freedom earrings.' It's my oiseau bleu, if you will; a reminder to myself that I'm free (and should be so lucky)."—Sarah LaFleur, CEO of MM.LaFleur
"I tried to carefully break the news to my boss at a corner table at Jack's Wife Freda. In hindsight, I wasn't careful enough, and after recovering in a nearby park, I walked back to JWF to apologize for causing a bit of a scene in their otherwise inviting and cheery cafe. Their automatic response? Warm hugs and multiple glasses of mid-afternoon champagne on the house. To this day, that fond memory overshadows the otherwise unpleasant experience. Thank you to the owners and staff at Jack's Wife Freda!"—Narie Foster, COO of MM.LaFleur
"My first boss was a divisive character. One minute, he was telling me I was a genius, and the next, he was throwing a stapler at my head (literally). Needless to say, it was a confusing work environment. After he sent me to Boston dressed as a superhero to pitch a client, I decided it was time to make a move. I had been slowly building up to the idea of living abroad, and days after I quit, I finally mustered the courage to buy myself a one-way ticket. Less than two months later, I was living in Paris."—Tory Hoen, Editor-in-Chief of MM.LaFleur