5 Pieces, 8 Outfits: A Travel Capsule Wardrobe
April 27, 2018 | Filed in: Your Closet

At MM.LaFleur, we believe that when women succeed at work, the world is a better place. We design beautiful, office-appropriate clothing that keeps the spotlight on you, and we host intimate events for the remarkable women in our community.
One of the questions our stylist team most frequently fields is, "What should I wear on a business trip?" Our VIP stylist, Liz, is often asked to put together packing lists for her customers. "Many of my customers need travel-friendly pieces they can wear on cross-country business trips," she says. "The challenge for me, as their stylist, is to assemble an easy wardrobe that works not only from coast to coast, but from casual to formal environments." We challenged Liz to create a travel capsule wardrobe, using five pieces (plus accessories) to create eight outfits that can easily fit in a carry-on. Read on to see how she did it.
The Pieces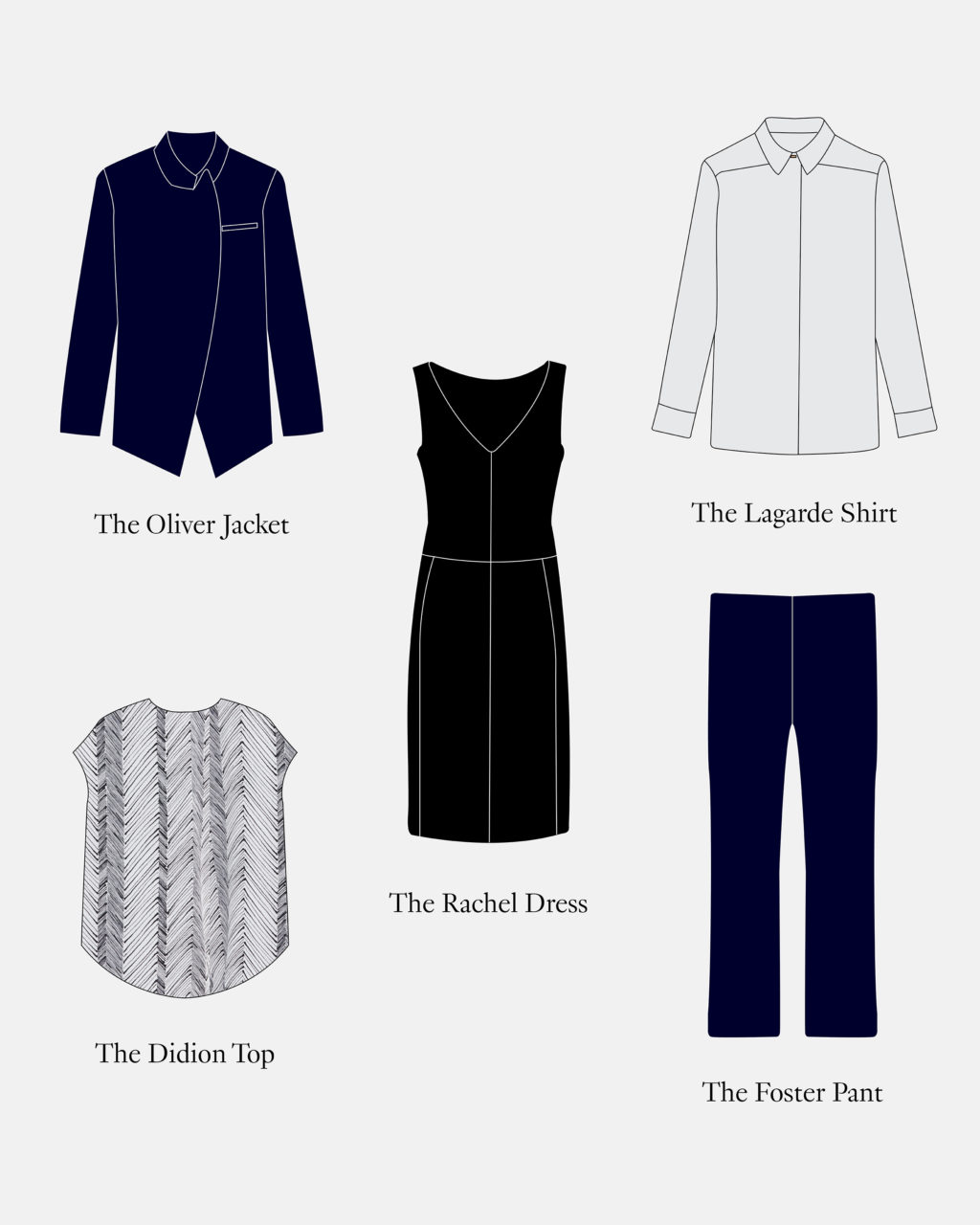 The Rachel dress (similar style here): A classic, tailored sheath gives you tons of value on the road. For instance, the Rachel dress can become a skirt when you wear a top or jacket over it, while a skirt can't become a dress without adding another piece. 
The Foster pant: Whenever I'm in a situation where I don't know what to wear, I opt for the Fosters—they work for any situation. The hem can be cropped, which gives you two distinct looks with one pair of pants. 
The Lagarde shirt: This top is the definition of versatile: It can be worn open for a more casual look, or fully buttoned-up for a more formal ensemble. Bonus: The Lagarde is so breathable, I never sweat in it.
The Didion top (similar style here): I think of the Didion as an elevated T-shirt: You can just throw it on the same way you would a basic tee, but it's tailored and professional. Whereas the Lagarde is long-sleeved and tailored, the Didion is short-sleeved and relaxed. With both of these tops in your suitcase, all your bases are covered. I also like traveling with one patterned piece to add a bit of variety to your color palette.
The Oliver jacket: When I wear a classic suit jacket, I can feel out of my element, like I'm trying to be someone I'm not. The Oliver makes me feel professional but still like myself. It has the ease of a sweater; if you need an extra layer, you can throw it on and it doesn't feel too buttoned-up or constricting. Worn with the Foster pant, it becomes a full suit, but it can also be paired with jeans and worn as a cool jacket.
The Outfits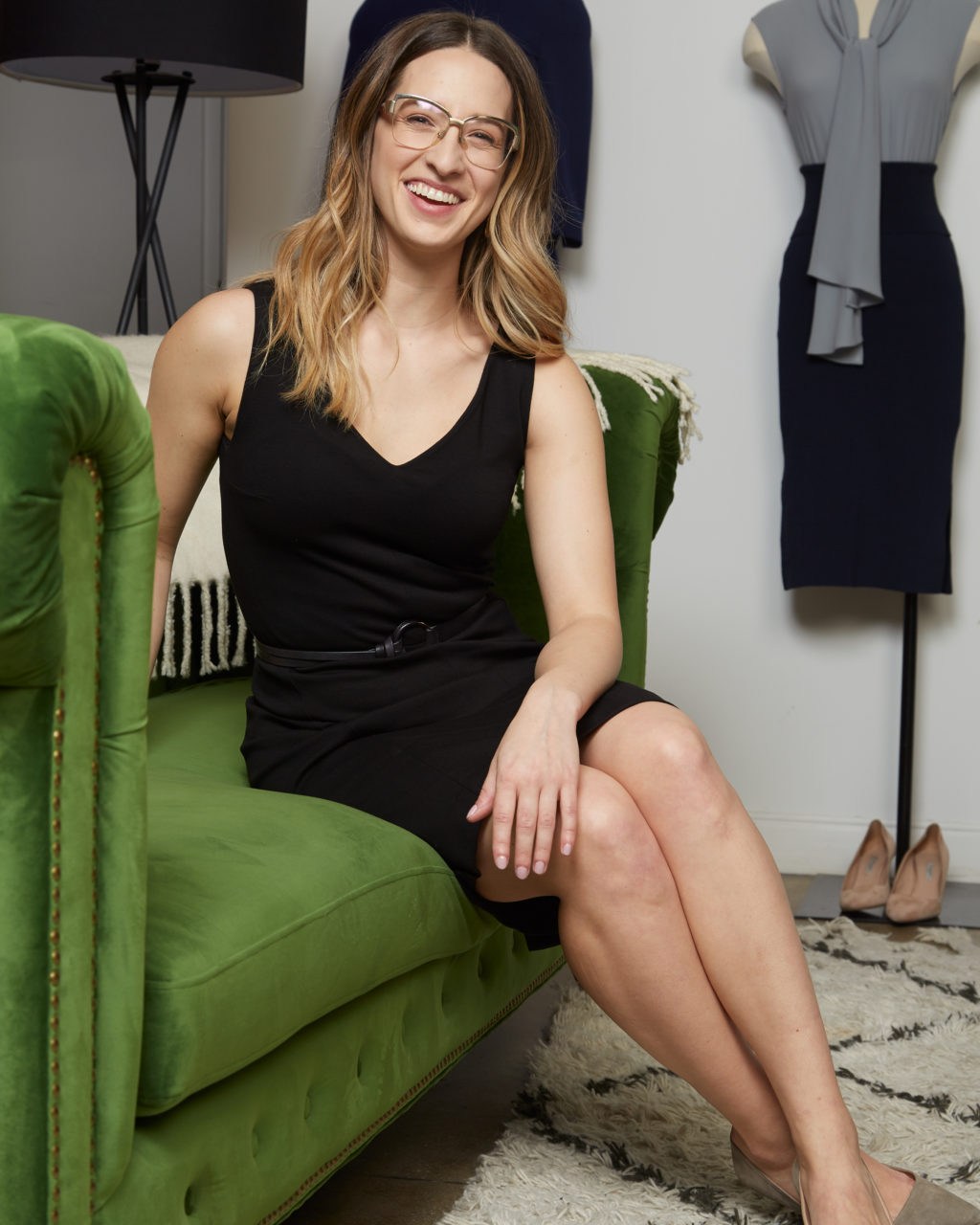 Why it works: Of all the combinations, this one is the most formal. The Rachel dress is a classic silhouette that's appropriate for any occasion, and the addition of a belt, great pair of heels, and a red lip take it to the next level.
When to wear it: An evening event, like a cocktail reception.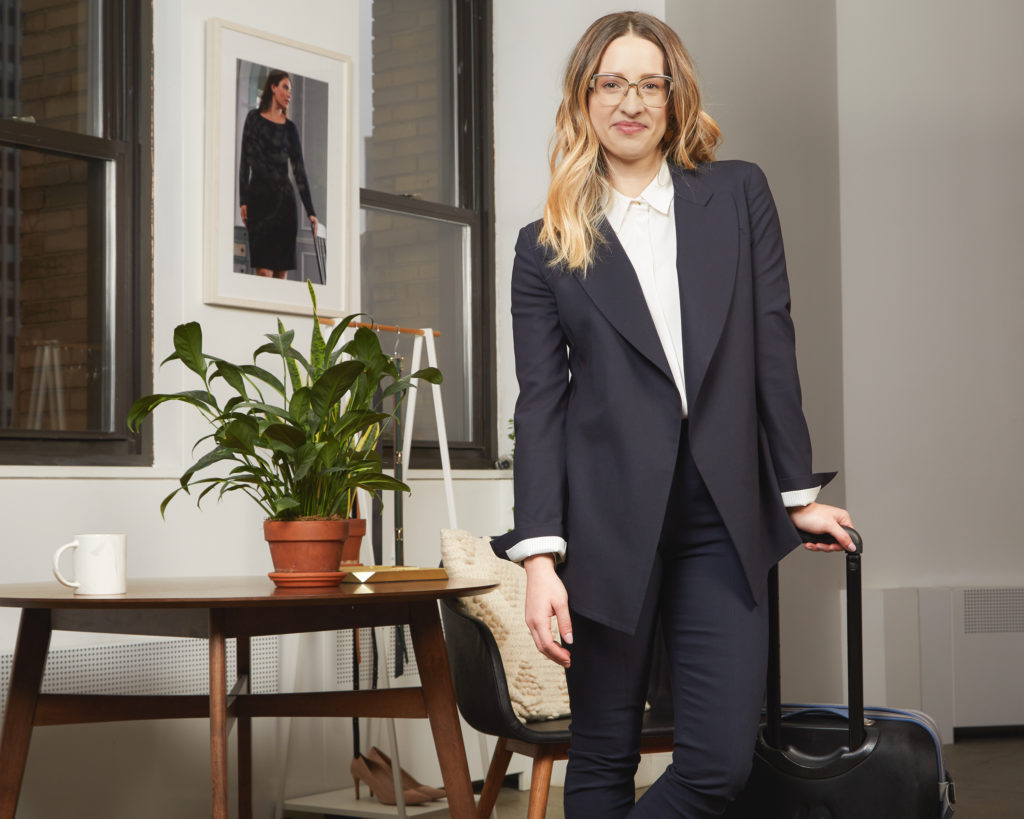 Why it works: These pieces are a modern take on the traditional suit. I wore the Lagarde fully buttoned to make the look more formal, but you can also wear it unbuttoned for a more casual vibe.
When to wear it: Client meetings, speaking engagements, or any environment where you need to impress.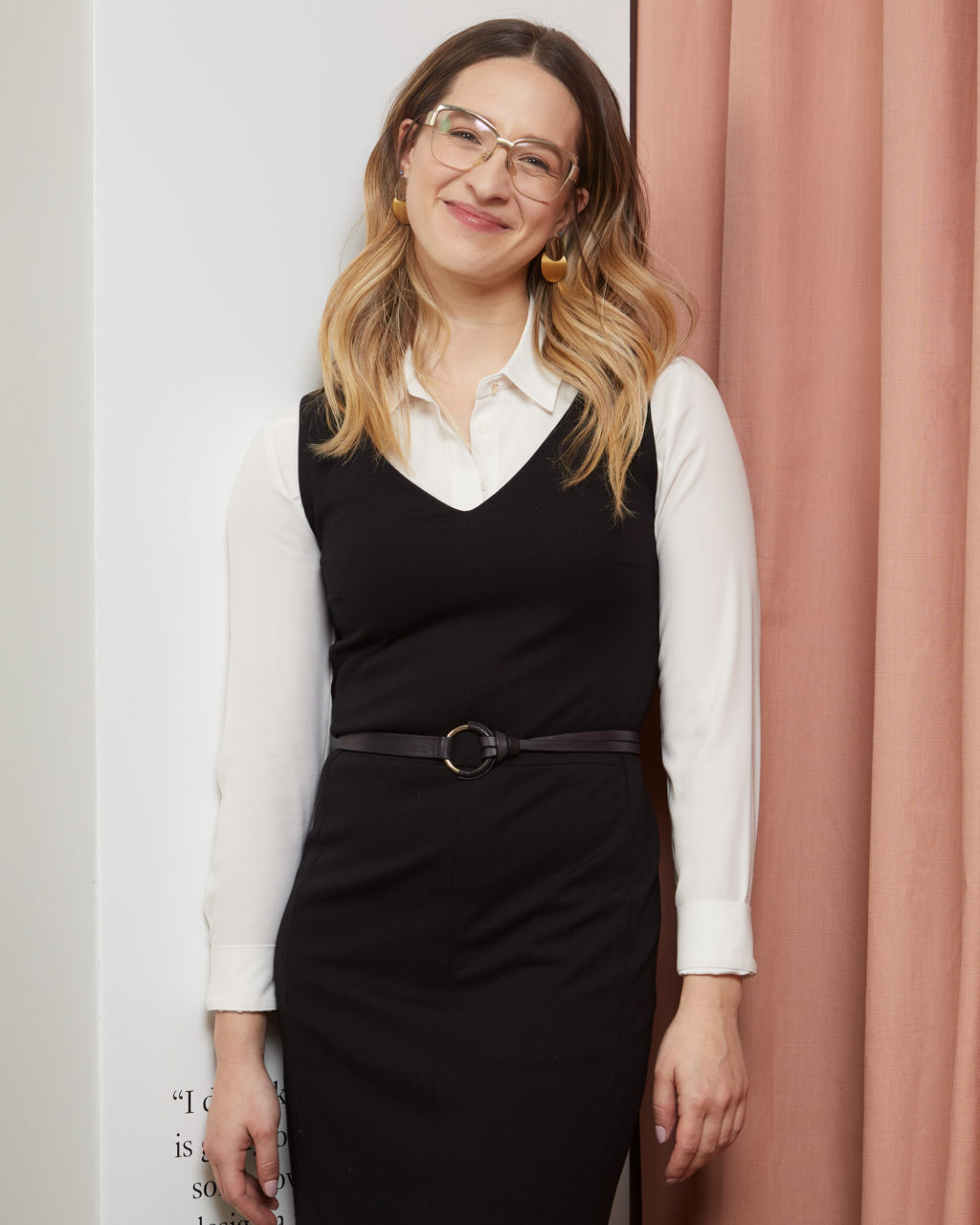 Why it works: This combination is a creative take on layering. Don't be nervous about wearing dresses over tops: Just choose a tailored, lightweight top, and make sure you reach under your dress to pull down your top down so it lies as smoothly as possible.
When to wear it: This is the perfect presentation outfit: It looks professional but is still fashion-forward, and covers your shoulders with minimal bulk.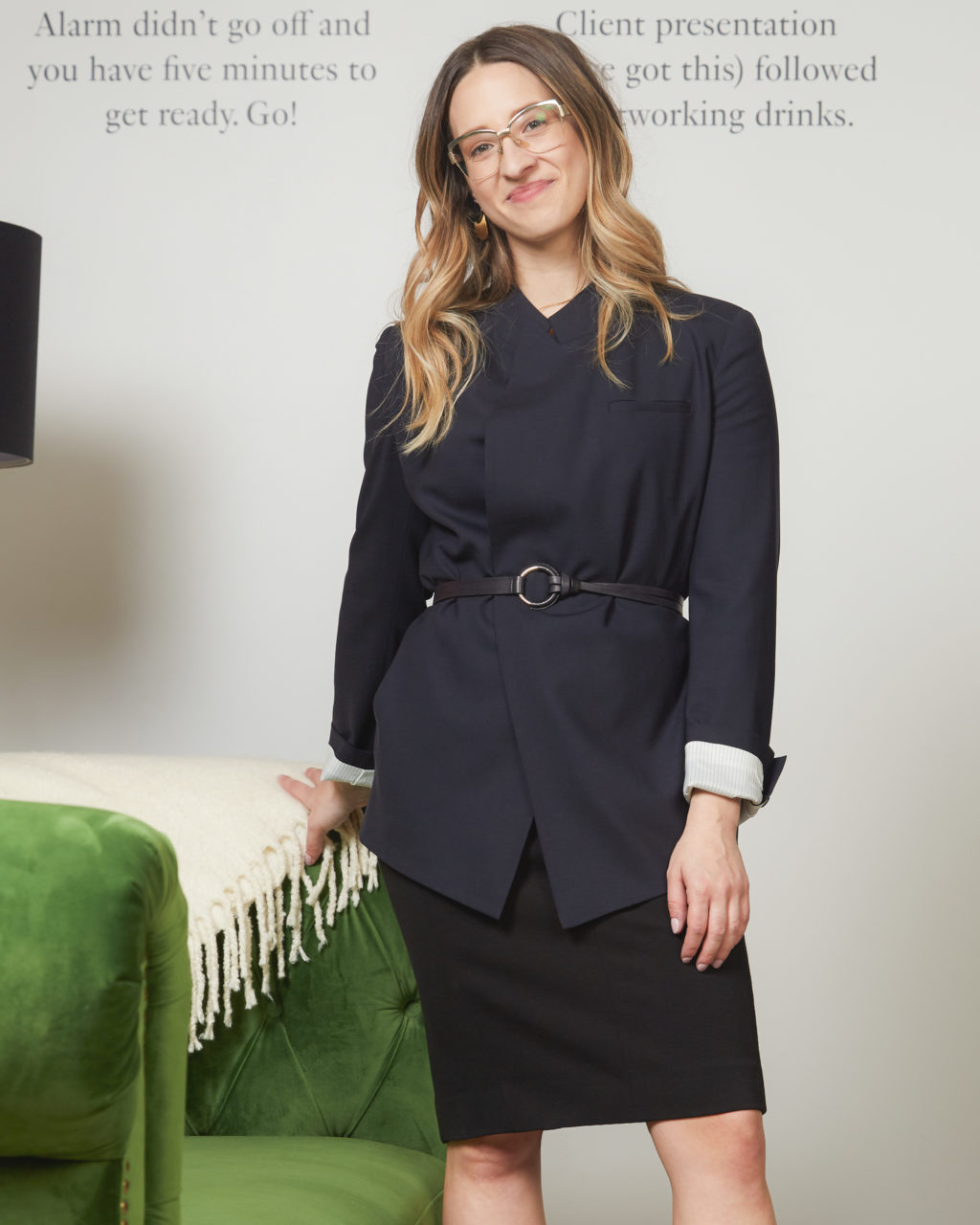 Why it works: This outfit shows a real point of view and creativity. Wearing the formal Oliver jacket over the Rachel dress checks all the business casual boxes, but the belt adds a creative edge (and creates flattering definition at the waist).
When to wear it: A client dinner. You get the sleekness of an evening look that's still professional.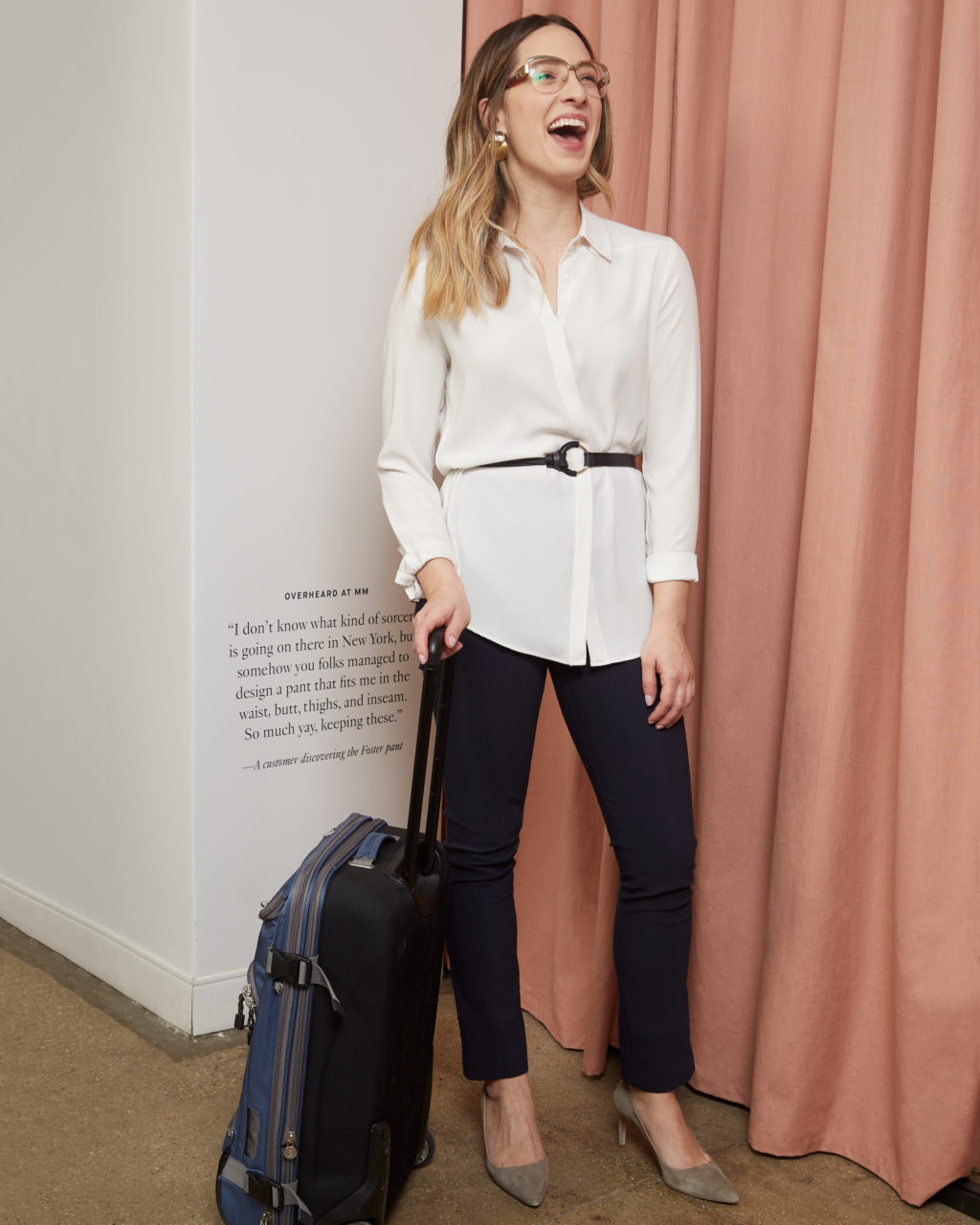 Why it works: Adding a belt creates a peplum shape on top to give this look more structure. If you typically don't like tucking things in, belting a shirt lets you show off your waist in a different way.
When to wear it: A day when you're on the go and need an outfit that can comfortably withstand climbing in and out of cabs.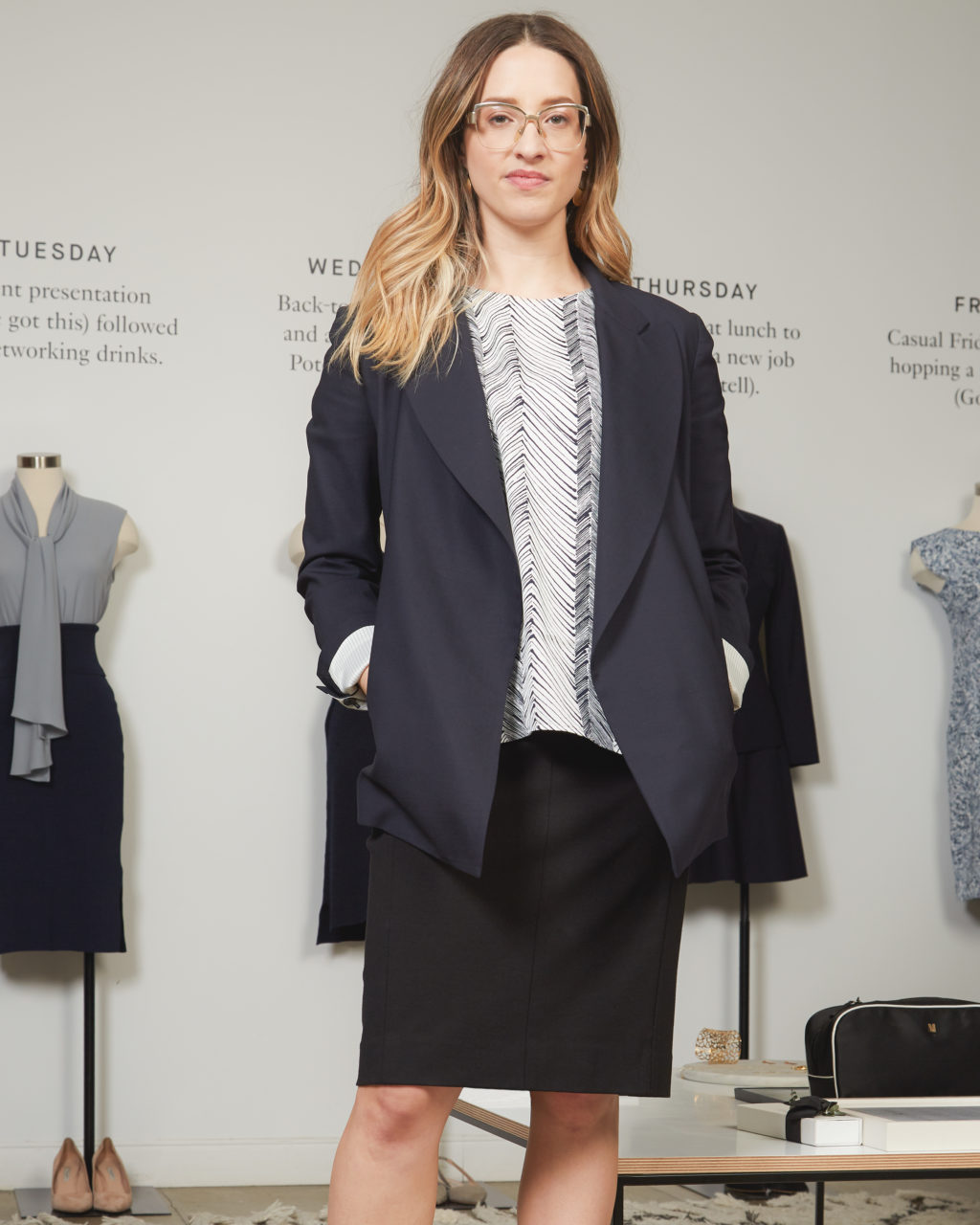 Why it works: This outfit gets extra mileage out of the Rachel; layering the Didion top over it makes the dress look like a skirt. Adding the Oliver jacket makes for a polished, three-piece ensemble.
When to wear it: Midweek, when you're feeling tired and just want something comfortable, but still need to look put together for meetings.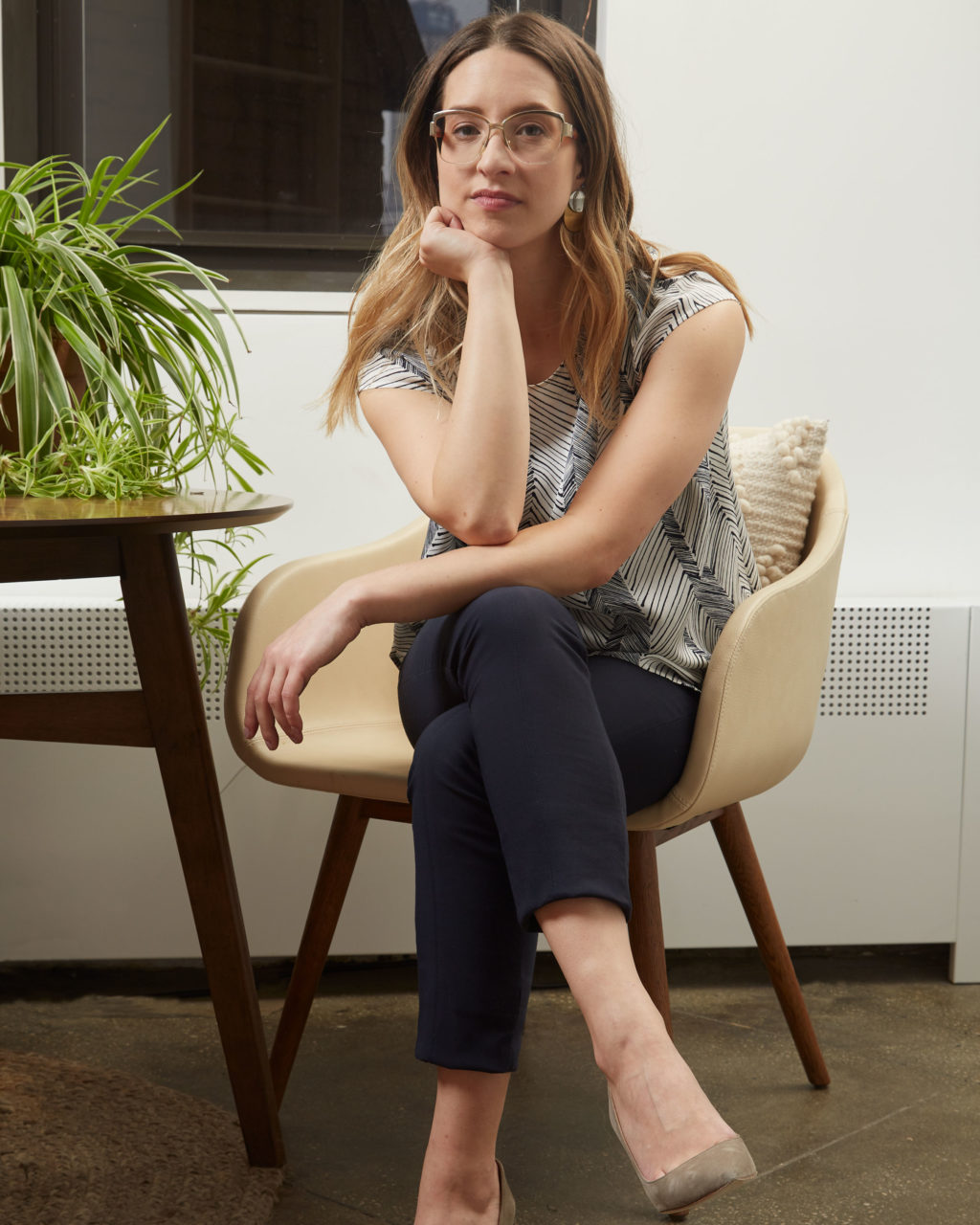 Why it works: These pieces are comfortable and lightweight, and when paired together, they're office-appropriate but casual enough that I would wear them off-duty with sneakers. I cropped the Foster pant here to give the look a more relaxed feel.
When to wear it: On the plane. And if you're heading straight to a meeting from the airport—just unbutton the Foster pants to make them full length and add a pair of heels. Voilà.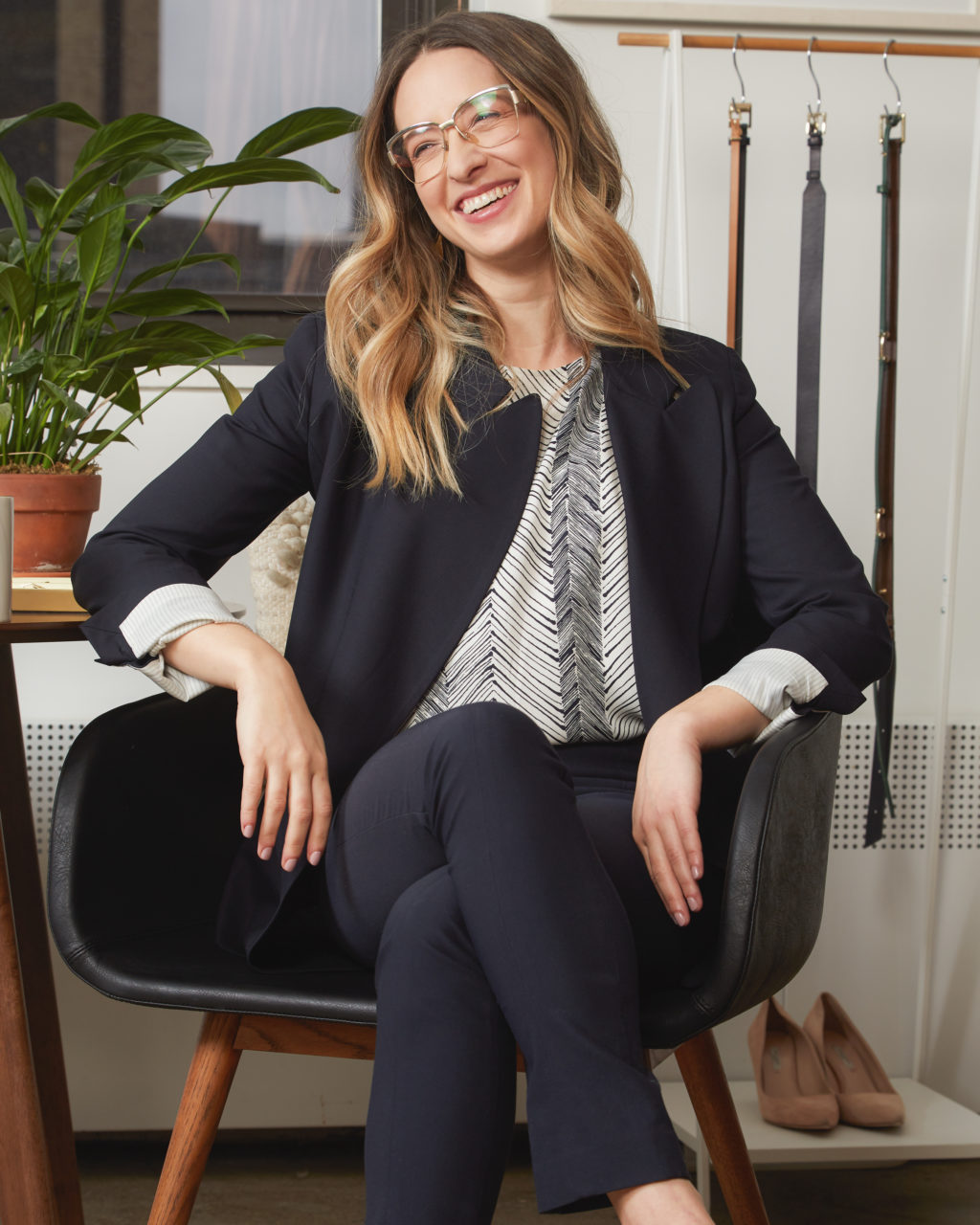 Why it works: Wearing the patterned Didion with the matching Foster pant and Oliver jacket adds a fashion-forward element to the classic suit. The print on the top is eye-catching but still professional.
When to wear it: When you need an outfit that can take you from a day of back-to-back meetings to dinner with a friend—just slip off the jacket when you get to the restaurant for a more casual look.
Takeaways: Keys to Building a Travel Capsule
Choose pieces that make you feel your personal best. There are a lot of boxes a truly "travel-friendly" item should check (versatile, wrinkle-resistant, easy to care for), but most importantly, travel pieces should be the ones that you feel your very best in. When you're on the road, you're out of your comfort zone: You're sleeping in a new place, removed from your normal routine, and meeting new people. A business trip is not a time to experiment; it's a time to rely on your staple pieces.  When everything else is unfamiliar, your clothes should be a source of comfort.
Opt for garments that can transform. The most valuable travel pieces are the ones you can wear in different ways. For example, the Foster pants can be worn at two lengths, which allows you to create a wider variety of looks based on the formality level you're going for. Similarly, the Lagarde shirt can be styled in formal ways (fully buttoned, tucked in) as well as in more casual ways (sleeves rolled up, layered under dresses).
Stick with classic, neutral colors. When building a capsule, it's easiest to stick with classic colors. I gravitate towards navy and black because they're so versatile. When you're traveling, I recommend packing one patterned piece to add variety to the color palette—but keep standout pieces to a minimum so that you can easily mix and match.
Want to build your own travel-friendly capsule wardrobe? Shop our favorite travel pieces here. 
Photographs by Andrew Segreti.