Take a Tour of Our Bryant Park Showroom
May 05, 2018 | Filed in: Your Closet

For the past several months, we've been hard at work building our showroom in New York's Bryant Park—and we're officially open for business! The location was a no-brainer: "Many of our customers work in midtown. From Monday to Friday, we want to be as accessible to them as possible," says Caroline Brown, our associate director of visual merchandising. In honor of the grand opening, we sat down with Caroline to hear what makes the Bryant Park showroom so special. Want to see for yourself? Book an appointment.
Our Bryant Park showroom is in a high-rise office a few minutes away from Times Square. It's also the only retail unit in the building. Why this space?
This showroom is truly an oasis in the center of chaos. You look out the west window and you see Times Square, and out the east window is a bird's-eye view of 42nd Street. There are always tons of people out and about, but up in our little space on the 13th floor, there's a sense of calm. We wanted the showroom to be a haven where you almost forget where you are. We get a ton of natural light, which is important when trying on clothes so you don't have to evaluate the clothes under fluorescent bulbs.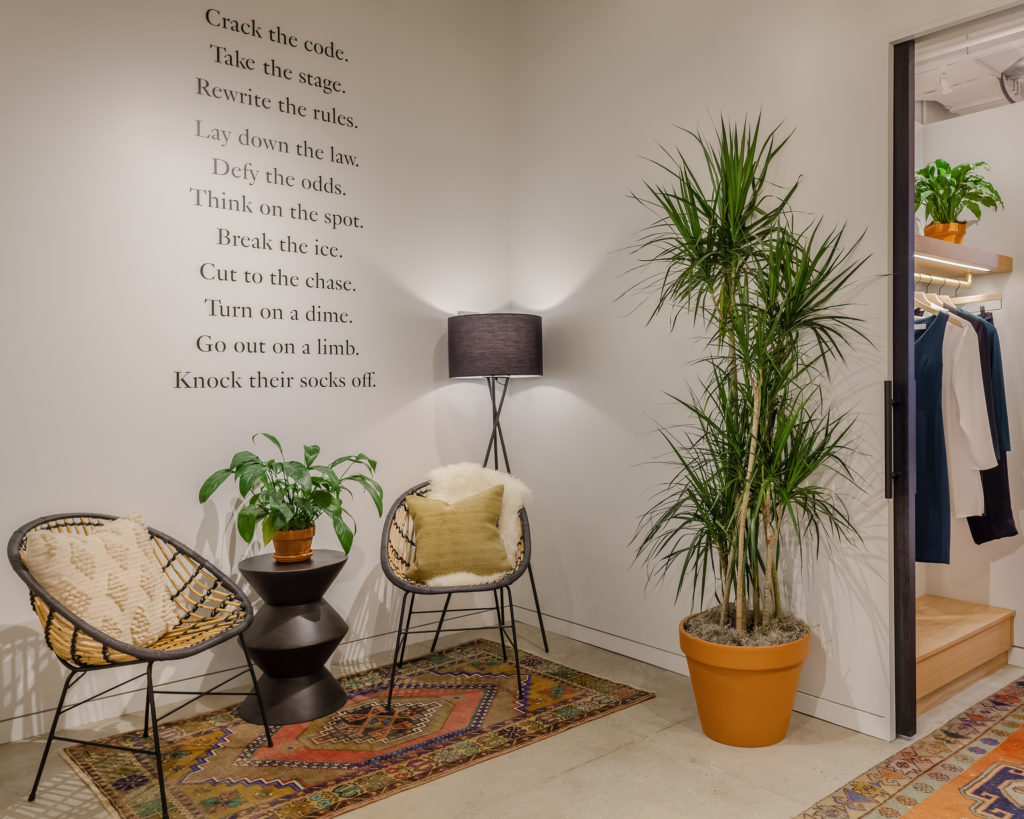 This is the first MM showroom with a room designed specifically for hosting events. Tell us about that.
In addition to being the professional woman's go-to shopping destination, we also want the showroom to be a space for other kinds of gatherings. Whether it's hosting an event to impress partners at your firm, meeting a mentor for coffee, or needing a place to focus while you knock out a project in Excel, we designed this space to be a real hub for the MM community. We've hosted events with the New York Women's Foundation and Changemaker Chats so far, and are excited for what's to come.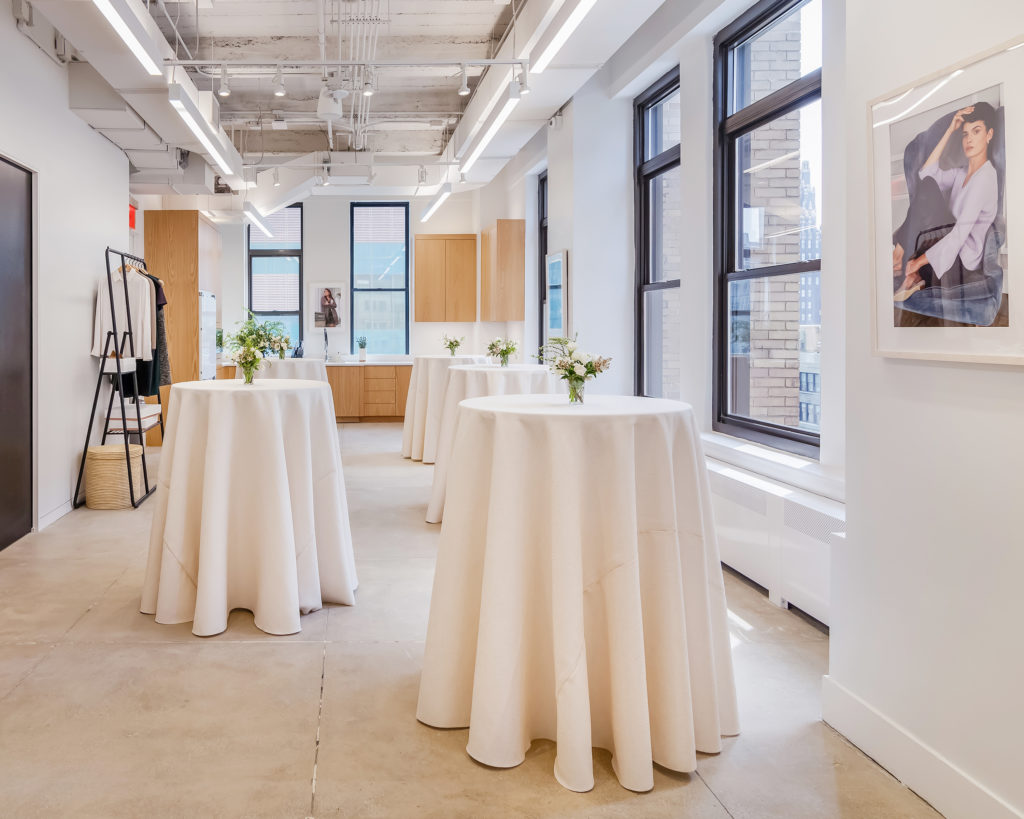 We completely gutted and rebuilt the space. Can you walk us through your creative process from start to finish?
Our greatest challenge was taking a 13th-floor office space in Times Square and turning it into a place where you'd be excited to spend time. When we began mapping out the layout, our primary focus was making sure the dressing rooms were luxurious and spacious, because our customers spend 90% of their appointments trying on clothes. The dressing rooms are spread throughout the entire space, rather than all clustered together—we put a lot of care into ensuring the rooms feel private, like your own cozy nook.
For those who have been to other MM showrooms, what will they recognize?
The base design is what we start with for all our showrooms: a beautiful shade of white for the walls, smooth oak accents (like the herringbone at the bar and shelving in the dressing rooms), Tucci marble on the bookcase, and brass accents. There are also elements from nature: driftwood, coral, gemstones, and plants. Nothing adds color to a space like bringing in greenery. A lot of our plants take on personalities of their own, as our showroom managers can tell you. Our Bryant Park space has a lemon tree which actually produces fruit, and we can then serve the lemons in the water we offer our customers.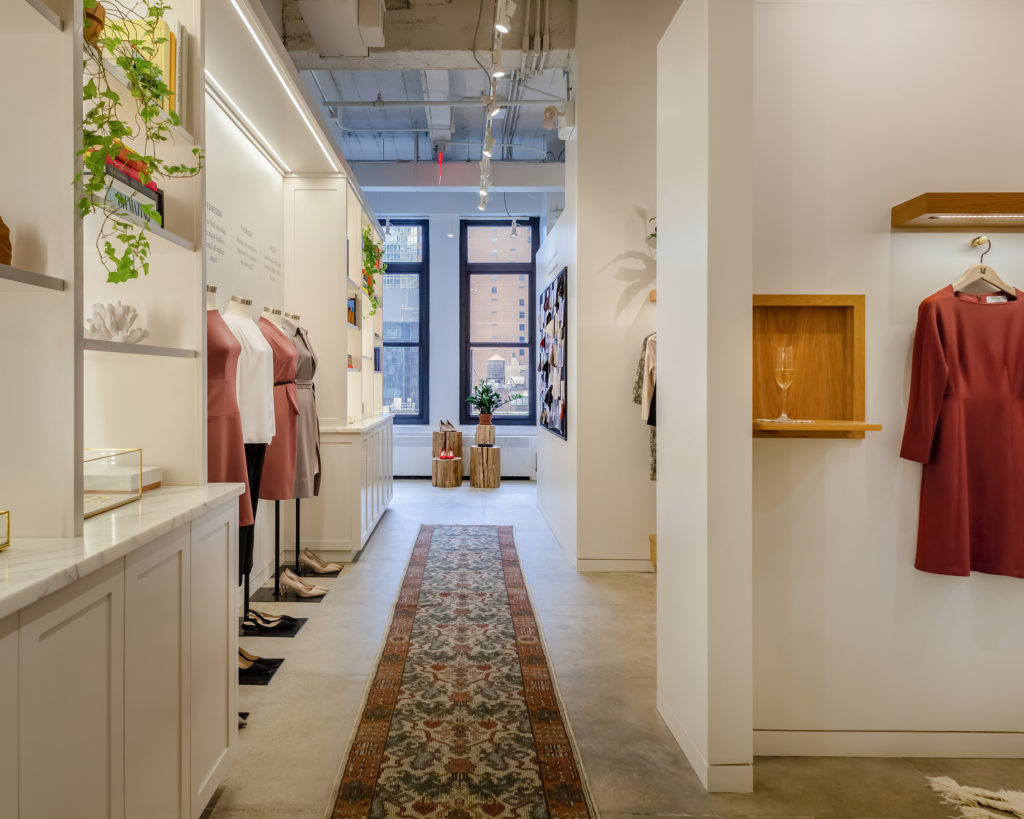 What's the most important thing about the displays for this showroom? 
Unlike most clothing stores, we don't keep much merchandise on the floor. Many of our customers don't love to shop and find the typical retail experience overwhelming. With the limited displays that we do have in the showroom, we're showing how to wear our garments in scenarios our customers would actually find themselves in. It takes the guesswork out of the shopping experience; rather than just looking at a rack of clothes, you see how they could be worn in your everyday life.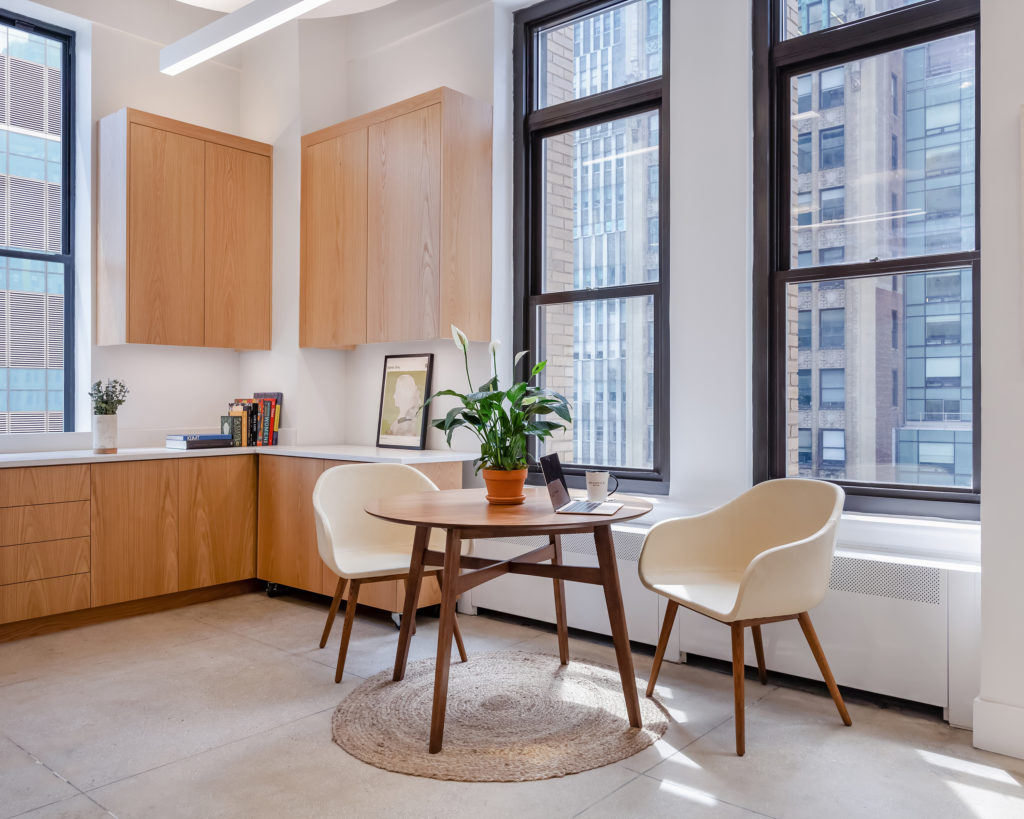 What's a unique feature of the Bryant Park showroom?
We're playing around with visual ways of showing our love of literature. As a brand, we talk about books a lot, and our customers are also avid readers. We built a big, beautiful bookcase and filled it with our favorite works, which we've done in other showrooms, but this time we also hung framed covers of classic novels by female authors in each dressing room. There's something fun about being able to say, "I'll meet you by Jane Eyre!" when you're trying on clothes.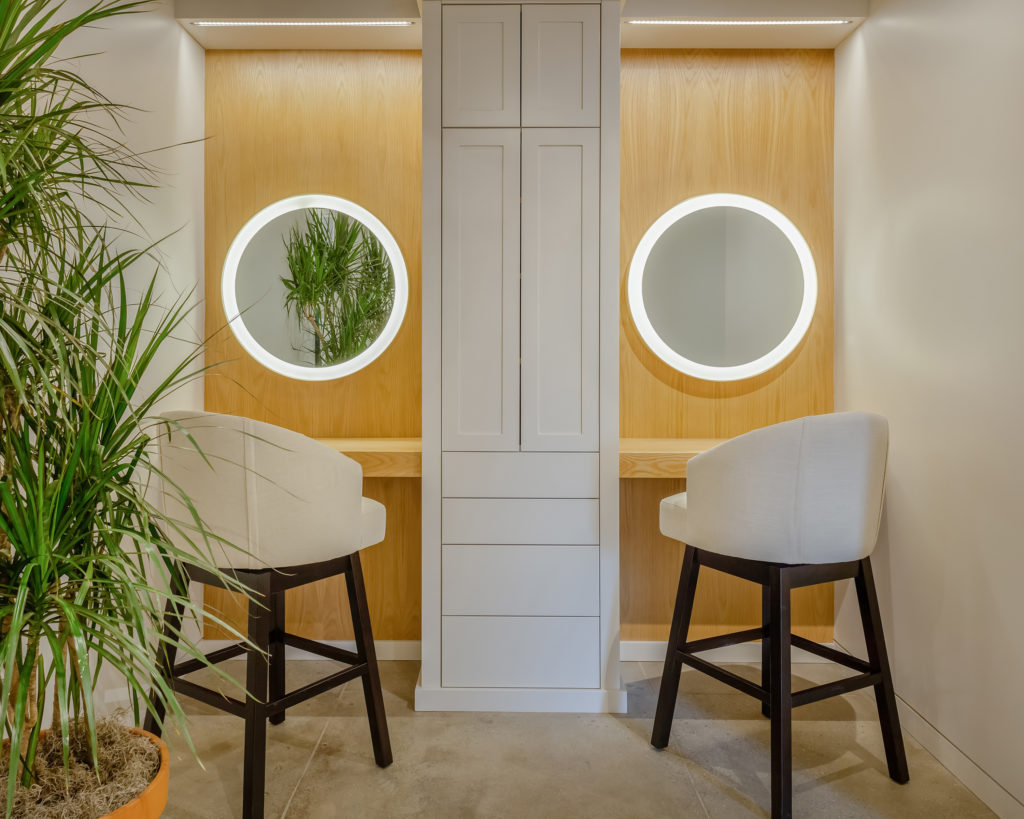 What's your favorite part of the showroom?
The bar. But maybe that's just because I'm pregnant and can't drink.
Want to pay us a visit? You can book an appointment for the Bryant Park showroom here. And if you can't make it to Manhattan, stop by one of our other showrooms.