A Peek into Our Chicago Showroom
March 09, 2018 | Filed in: Humans of MM

The story of our Chicago showroom begins with Prohibition (literally) and has continued with our opening last December. We've loved exploring the Windy City, and below, we make our case for why you'll love exploring our showroom. Book a styling appointment (in Chicago or elsewhere) here. 
When we first saw the historic brick-and-timber Bauer building at 230 West Huron Street, we knew it was home. Originally built in 1920, it was once the largest building in the country exclusively devoted to the wholesale whiskey business. (So our ever-flowing prosecco policy is rooted in historical precedent.)
Caroline Brown, our Associate Director of Visual Merchandising, helped to design the store. "We were so inspired by the handcrafted facades, stone pathways, and grand entrances," she says. "We wanted to highlight the existing historical features, but also to make the store feel as comfortable as a home."
This showroom was an opportunity to bring the MM ethos into a physical space. "One of my favorite moments was during set-up. A UPS guy came in to deliver a package and said quizzically, 'What is this place, a spa?' We took it as a compliment," Caroline remembers.
First, we focused on the design details. We restored the historic terrazzo foyer and staircase, and incorporated elegant Calacatta Tucci marble and custom millwork into the interiors.
Then, we turned our attention to the experience. "When the customer arrives, she can slip out of her shoes into custom MM slippers. We hand her a glass of prosecco. She can read a few pages of Little Women in our library, and then she can shop at her own pace with the help of a stylist." (Our library is stocked with books by female authors we admire—some of whom we've profiled here on The M Dash.)
"We flipped the typical retail experience on its head," Caroline says. "No racks of clothing, and no loud music. We wanted the showroom to feel like a clubhouse, so we filled it with quotes from beloved customers, framed pictures from MM history, a bar, cozy chairs, and books."
Customers have praised the showroom's "good vibes"—perhaps a nod to the speakeasy history preserved in the design, including the spacious marble bar. And, of course, the clothes are the ultimate draw. Said one customer, "The reason I keep coming back is because every time I wear an MM dress, I can expect to get at least three compliments." That's some serious wardrobe ROI.
But whether you come for one piece or a sartorial overhaul, we're always happy to hang out with you. After your appointment, we hope you'll cozy up to the bar, have another drink, and relax for a while before heading back into the wider world.
"We want you to walk out and say 'Did I just go shopping?'" says Caroline. The answer is: Yes and no. Shopping as you know it is over. This is a new frontier.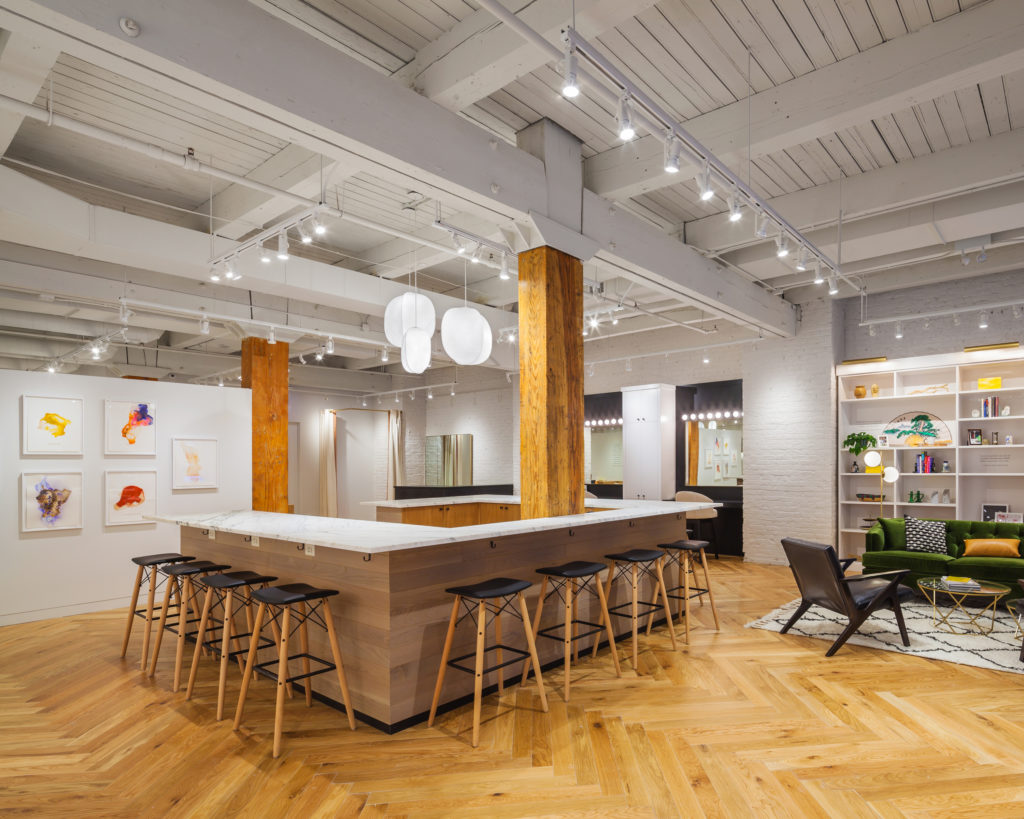 Suffering from Chicago showroom FOMO? Book an appointment at one of our other locations here.